On December 18, 1975, George Lee Lutz, his wife, Kathleen, and their three young children moved into their new home at 112 Ocean Avenue in the village of Amityville, a small community (the population was then around eleven thousand) in the town of Babylon in Suffolk County, on the south shore of Long Island.
George and Kathleen had been looking at homes for quite a while—they had looked at over fifty houses in all—and considered the house a steal. It was a large, two-and-a-half-story, dark-shingled, white-trimmed Dutch Colonial in fine condition and featured six bedrooms, three and a half baths, a pool and, on the east side of the property, access to AmityvilleCreek, which feeds into the Great South Bay.
The house was selling for only $80,000 in an old, upscale neighborhood where the other homes were twice that price. Of course, there was a reason for that, and the real estate agent was up-front. She said that barely a year earlier something terrible had occurred in the house: an entire family, the DeFeos, had been murdered.
That didn't bother the Lutzes. The house was just what they were looking for. Lutz could relocate his surveying business office from Syosset to the house's finished basement, thereby saving rent; the kids would have their own rooms; and the family could get in plenty of boating.
Twenty-eight days after they moved in, the Lutzes fled the house in terror, leaving behind furniture and furnishings, taking with them only a change of clothes.
The Lutzes said they got out because they were not alone in the house. There was an evil force there: they spoke of such things as pigs with glowing red eyes looking through windows, being levitated, discovering a small room not on the house plans that was filled with an overpowering stench of human excrement.
The local media came at the Lutzes in waves. The story quickly spread across the country and they were besieged for interviews and information about their experience. Then, a few
months after they left the house, the Lutzes suddenly stopped talking to the media, saying that the reportage was distorted and exaggerated. Shortly thereafter, they sat down with writer Jay Anson to get it right. A year later, the book The Amityville Horror emerged. Or perhaps exploded would be more precise: it broke the bank, going through thirty-seven printings and selling 6.5 million hard cover copies at $7.95 a copy. It was a national bestseller for forty-two weeks.
The book spawned the first of several movies on the topic, which were even more lucrative, and it also released hordes of curious visitors who came both day and night—some traveling from foreign countries—to see the house where such horrific things had occurred. The book also spawned lawsuits: a writer sued, claiming he had a deal with the Lutzes before Anson.
A family named Cromarty, who had moved into the house after the Lutzes, sued them, claiming that the book was fiction and had violated their privacy and made it more difficult to sell the house. Now, years later, with all the legal dust settled, it is clear that the book was less than accurate. As Federal Court Judge Jack Weinstein said during the writer's suit, "It appears to me that to a large extent the book is a work of fiction."
But there was never any doubt that in the wee hours of the morning of November 13, 1974, a real horror had occurred at 112 Ocean Avenue and had, in fact, made everything that followed possible and plausible.
And per haps the most horrible part of this horror was that the murderer turned out to be the sole surviving member of the family, Ronald DeFeo, Jr.
Ronald DeFeo, whose murder
of his family triggered a spate of
"Amityville Horror" movies.
(Author's Collection)
At the time of the killings, Ronald ("Butch") DeFeo, Jr. was twenty-three, a husky,five eight, dark-haired man who wore a beard and was given to open shirts to display chest hair; overall, he had a macho style that belied the emptiness inside. He was a sporadic drinker but heavy user of heroin, had used speed heavily for years, and occasionally used acid. He had a history of legal and psychological problems. The eldest of five children, he lived at 112 Ocean Avenue with his parents and two younger sisters and two younger brothers.
It was DeFeo who sounded the alarm that something might be wrong at the house. On the afternoon of November 13, he went over to the home of his friend Bobby Kelske, who lived in the neighborhood, and said that something strange was going on at his house. He said the family cars, a green Buick station wagon and a red Buick Electra, were in the driveway, but no one answered the doorbell when he rang it. He didn't have his house key, so he couldn't get in. He had also called twice; no one had answered.
Kelske said that someone had to be there, but the subject was dropped.
Kelske and DeFeo, or "Butch," as Ronald was known to family and friends, arranged to meet that evening at Henry's, a bar about a half mile from the DeFeo house at the corner of Ocean Avenue and Merrick Road. Butch was already at Henry's when Kelske arrived at about 6:00 p.m. He was wondering out loud to some drinking buddies why he couldn't get into the house. What was wrong?
Finally, DeFeo said he couldn't stand it anymore. He told the group that he was going to have to break a window to get in and left. A short while later, Henry's patrons heard the squealing of tires, and moments later, Butch DeFeo, very agitated, was standing in the doorway.
"Bobby!" he cried to Kelske. "You got to help me!"
"What's the matter?"
"Someone shot my mother and father."
"Are you sure?"
"I saw them up there."
DeFeo asked the others to help as well, and a few seconds later four of the men, plus Kelske and DeFeo, were out of the bar and in DeFeo's blue Buick, speeding to the house.
It was Kelske who called the Suffolk County Police. The call was logged in at 6:35 p.m. It was, as often happens when people are under stress, very garbled in dialogue, but the message finally got through. Kelske and companions had discovered four bodies in the DeFeo house. The cop on the line told him to wait at the house and that he would contact the local Amityville police.
Amityville cops were on the scene in a couple of minutes and were followed by an army of Suffolk County cops, including Suffolk homicide detectives. They found that Kelske had made a mistake—there were not four, but six bodies: Ronald DeFeo Sr., forty-three; his wife, Louise, forty-two; their sons Mark, eleven, and John, nine; and their daughters Dawn, eighteen, and Allison, thirteen.
Jack Sturiano, a physician's assistant with the Suffolk County medical examiner's office who has pronounced death at thousands of scenes, examined the DeFeo crime scene photos
and said there were a couple of unusual things about it. One was that it was neat. "Normally in scenes like this where people die so violently, you'll see blood splattered everywhere. Here, the blood was mostly confined to the beds the victims were on," Sturiano said. "Also, all the bodies were found in the same position, lying facedown. That's very unusual."
Mark DeFeo's bed
Five of the bodies were found on the second floor. Autopsies would determine that they were killed between two and four in the morning, and that the murder weapon was a high-powered rifle.
Ronald DeFeo, Sr., and his wife were found lying side by side in two single beds that had been pushed together in the master bedroom. The elder DeFeo, a squat, dark-haired, heavyset man, had been shot twice in the back, through the right kidney and the base of the spine. Forensics evidence would indicate that he was trying to raise himself up when he was shot.
Bodies of Ronald Defeo, Sr. and Louise DeFeo
Louise DeFeo also had been shot twice in the back, one bullet entering through her right buttock and the other through her upper back on the right side. She also was trying to get up.
Forensics would show that all four shots had been fired from the bedroom doorway.
Louise and Ronald DeFeo
The two boys, Mark and John, slept together in a room diagonally across from the master bedroom. Here the shots were taken up close: the killer had stood between the boys' two single beds and shot each once in the back from a distance of less than two feet.
The room of thirteen-year-old Allison was adjacent to her younger brothers. Here, investigators theorized that she had awakened, been shot in the face from a distance of less than two feet, and had flopped back belly-down on the bed.
The sixth body, of eighteen-year-old Dawn DeFeo, was the last to be discovered—and she was discovered by accident. The house was swarming with police, and one of them noticed stairs leading from the second-floor landing to what he assumed was an attic. He climbed them and found Dawn in one of the two bedrooms up there, the other bedroom being that of Butch DeFeo.
Gerard Sullivan, the Suffolk assistant district attorney who was to prosecute DeFeo, said of the victims that Dawn was "the most horrible to look at." She had been shot once, and the bullet had entered below her left ear, smashing into her temple and "collapsing the left side of her face."
DeFeo was to testify later that after the shooting, a smell came from her head that was "sickening." However, there is no medical reason for this; it was likely DeFeo smelled nothing except the aroma, as it were, of the madness inside himself, or excrement that Dawn had discharged at death.
Butch DeFeo was very cooperative with homicide detectives and understandably distraught over the loss of his family. And he had a theory as to who might have done it: an old but dangerous man named Louis Falini, who reportedly had been a mob contract killer and was a former friend of his father. Butch had had an argument with Falini a couple of years earlier and Falini had, Butch told the cops, vowed to whack out Butch and the rest of the DeFeos.
At first the detectives believed Butch and took pains to keep him safe, as they transported him to homicide headquarters in Hauppauge, to protect him from a possible hit attempt. It was later, by accident, that DeFeo was considered a suspect. The house had been thoroughly searched, but Jack Shirvell, one of the homicide squad detectives, was making a last sweep through when he noticed two boxes—both of which turned out to be empty—leaning against a wall by a radiator in Butch DeFeo's room.
It was the printing on the boxes that caught Shirvell's attention. One had held a .22-caliber Marlin, the other a .35-caliber Marlin carbine. Just to be on the safe side, Shirvell brought them, along with other materials, to homicide headquarters. A few hours later, Shirvell learned more from a ballistics report on the bullets recovered at the scene: the bullets had been fired from a .35-caliber rifle.
Shirvell and the other detectives conferred and decided that before confronting DeFeo with the information, they would talk to his friends, so the detectives later could go into any confrontation with DeFeo armed with as much knowledge as possible. Meanwhile, DeFeo remained at homicide headquarters in protective custody.
Police talked to DeFeo's friend, Bobby Kelske, and he had some revealing information. Apparently DeFeo owned quite a few guns, including rifles, and just a couple of weeks earlier had been looking to buy a silencer.
The detectives returned to headquarters and read DeFeo his rights, confronting him with the fact that ballistics showed the bullets that had killed his family had come from a .35-caliber rifle, and that he owned one. DeFeo steadfastly maintained his innocence. "I'm trying to help you guys," he said at one point.
Detectives continued to question him into the night but got nowhere. DeFeo went to sleep on a cot in one of the rooms.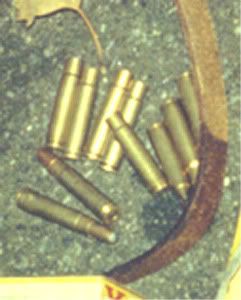 The eight expended rifle casings pictured with two live rounds
The next day, November 14, the interrogation continued, but this time it was conducted by Dennis Rafferty, a homicide detective with a reputation as being the best interrogator in the department. Sympathetically, but persistently, Rafferty kept pointing out inconsistencies in DeFeo's repeated recounting of his story. First it was Falini alone who killed the family, then Falini had help, then Falini forced DeFeo to join in the bloodbath. The recitation was punctuated with tears.
Finally, at the end of six and a half hours, at around four in the afternoon, DeFeo rested his head on one of Rafferty's shoulders. DeFeo had already admitted that Falini was never in the house. Only he had been.
"Butch," Rafferty said softly, "tell me what happened."
"It all started so fast," DeFeo said. "Once I started, I just couldn't stop. It went so fast."
DeFeo said that he had been watching a war movie called Castle Keep (which was to play a role in his defense later) in the den and fell asleep. He awakened at two or three in the morning and went immediately to his room, where he loaded the Marlin.
Then he went to his father and mother's room and shot them, into Allison's room and shot her, then into the boys' room and killed them. Then he reloaded—the rifle only held seven shots—and started to climb the stairs. Later he would recall that the rifle's barrel was hot. Dawn had awakened and come out of the room.
"Is that you, Butch?" she had said.
"Yeah," he had said, "everything's all right."
His sister went back in her bedroom. DeFeo then followed her in and shot her.
Throughout it all, he said, the family pet, a sheep dog named Shaggy who was tied outside to a garbage shed, was barking. DeFeo, who had no love for the dog, remembered it later at the trial. "The fucking dog was screaming while this was going on. The dog was screaming."
The coroner's office employees at Amityville remove a body from the home of Ronald DeFeo Sr.
It was a remembrance that was to be extremely significant. Following the shootings he went from room to room, picking up the spent cartridges he could find, at one point getting
blood on his hand and wiping it on his pants. He put the cartridges and clothes he was wearing in a pillow case and the rifle in another. Then he trimmed his beard, showered, put on fresh clothes, and left the house, driving to Brooklyn to his job as a mechanic at Brigante-Karl Buick on Coney Island Avenue.
Butch DeFeo's maternal grandfather, Michael Brigante, owned the shop, and Butch's father was the service manager. On the way, Butch threw the rifle into Amityville Creek and dropped the bloodied clothing and cartridges into a sewer on Rockaway Boulevard in Brooklyn.
And how did he feel during all this, the detectives asked?
"Good," he said. "Very good."
Investigators and Assistant District Attorney Gerard Sullivan developed a logical reason as to why Ronald DeFeo, Jr., murdered his family: money. His father had regularly hidden jewels and cash in a box stored in a recess beneath the closet saddle of the master bedroom. After the murders, police found it empty, and Butch DeFeo had a history of stealing. At the time, Butch was on probation for being in possession of a stolen outboard motor and had on at least two occasions stolen from his relatives. He had once helped implement a burglary scam at Brigante-Karl, and just two weeks earlier he and another employee said they were robbed on the way to the bank with a deposit of $20,000—$1,800 in cash and the rest in checks—a story that no one believed.
But overwhelming evidence suggests that the real reason for the murders lay within the psyche of Ronald DeFeo. The emotional environment in which he lived and his psychological history easily could have contributed to his propensity to commit the murders.
By all accounts, DeFeo lived in what could be fairly characterized as a madhouse. Arguing, unrest, and physical violence were a way of life. Louise and Ronald DeFeo Sr. had been fighting since Butch was a baby, and the fights often ended up with Louise bloodied and black-eyed. The violent incidents sometimes defied belief. Frank Davidge, a friend of Butch's, remembered one such incident.
Davidge had stopped at the house to get a car part. Butch and his father were at the table having dinner. Downstairs in the basement, the younger kids were acting up, and Mrs. DeFeo was screaming at them to shut up.
Ronald Sr., in turn, yelled at her to shut up a number of times.
She didn't, and she was still carrying on as she climbed the basement stairs, a laundry basket in hand. The elder DeFeo was there to meet her when she reached the top step. He
punched her in the face and slammed the door. Davidge could hear her cascading down the stairs. The elder DeFeo had returned to the table. "Now we can eat in peace," he said.
Mark & John Mathew DeFeo,victims
Ronnie also warred with his mother and gave a clear indication of his relationship with her when talking to detectives less than twenty-four hours after he had killed her. They had asked him why he hadn't eaten with the family the night before the killings. "My mother," he said, "was a lousy cook. She cooked up some brown shit in a bowl. It looked like shit and it smelled like shit . . . if you had to eat it, it would taste like shit."
His relationship with his siblings was equally stormy. He said—again, less than twenty-four hours after killing them—"My brothers is a couple of fucking pigs. I often used the same bathroom they used on the second floor. And I go in there and sometimes there is toilet paper hanging out of the bowl. Sometimes there is shit in the bowl and no toilet paper.
The fucking pigs don't even wipe their asses. A couple of times there were even shit on the back of the seat."
Of his sister Dawn, after he had killed her, he said, "That fat fuck Dawn. Dawn is nigger music, fucking nigger music, nigger music. All fucking day and night. And I can't even tell her to turn it down, because if I tell her to turn it down I get my ass kicked."
"By who?" detectives asked.
"My father."
Butch and his father
By far, the most malignant relationship in the house was between Butch and his father. Butch was battered by the elder DeFeo, and it started when he was very young. Butch's cousin, Michael Brigante, remembered an event that occurred when Butch was only two years old. Brigante said that during this incident, a lot of relatives were in the basement of the house where the DeFeos had lived in Brooklyn before moving to Amityville. Butch had done something wrong—Brigante doesn't remember what—and his father responded by grabbing him and pushing him against a wall so hard his head struck it.
When he was twelve (and grossly overweight, at 250 pounds), and after years of disciplinary problems, Butch was expelled from St. Jerome's, a Catholic school he was attending in Brooklyn. When he told his father, the elder DeFeo exploded, screaming at him that he wasn't really his son, he had only married his mother because she was pregnant with Butch, and that he was worthless. Louise DeFeo responded by going after her husband with a knife, and Ronald Sr. retaliated by throwing a chair—which hit Butch in the mouth and knocked out all his front teeth.
Later, as Butch got older, the elder DeFeo would not be above punching his eldest son in the mouth for some infraction. But there was a paradox in the way Ronald Sr. treated his oldest son. For whatever reason, his son could have virtually anything he wanted. When Butch was fourteen, his father bought him a $4,000 speedboat. When he was seventeen, his father bought him a car.
And he gave him money—lots of it. After Butch quit Amityville High when he was sixteen, he held a series of deadend jobs from which he was repeatedly fired for absenteeism.
At eighteen he went to work for his father at the car dealership, and though he only made around $80 a week as a mechanic, his father regularly gave him $500 a week in cash. It was not unusual for Butch to have thousands of dollars in his pocket.
It was around that time that he started taking speed, occasionally taking acid, and making the rounds of the South Shore bars. With plenty of cash, he played big man, regularly buying drinks for other people. A bar bill for one night could reach $100, a substantial amount in the late sixties and early seventies.
Butch had long shown an inclination toward violence, just like his father. His school record was dotted with altercations of one kind or another, and his trek through the bar scene was
studded with fights. He went out with a number of girls, and here, too, his relationships would ultimately be marred by violence; sometimes he was physical, and sometimes he would just threaten them.
His violence was coupled with and perhaps partly created by a liking for guns. Indeed, on a number of occasions, he had threatened both bar adversaries and girlfriends with shooting,
and a couple of times he had to be restrained by friends from shooting somebody. Sometimes DeFeo would threaten friends with guns in an almost playful way, but his friends didn't like it. Bobby Kelske tells of the time DeFeo leveled a rifle at him and, though he didn't fire, Kelske was scared to death because he saw something "like fire" in DeFeo's eyes.
On another occasion, DeFeo actually did fire at a friend— Frank Davidge, the friend who had earlier witnessed DeFeo's father's brutality. DeFeo and Davidge were hunting in some
woods, DeFeo leading. Davidge asked DeFeo to slow down. DeFeo responded by turning and firing his rifle, if not directly at Davidge, then close to him, as Davidge took shelter behind a tree. On that day, Davidge became an ex-friend of DeFeo's.
In retrospect, there was ample warning that DeFeo would one day turn his violence toward his family and kill them. For instance, a year before the murders there was a chilling incident.
One evening, the elder DeFeo was beating up his wife in the master bedroom. She was screaming, the kids were screaming, Dawn was trying to intercede. Finally the boys ran up to Butch's room and told him to come quick to save their mother.
DeFeo had a single-shot shotgun on his wall. He chambered a shell and went downstairs into the master bedroom. His father was standing over his mother, who was on her back on the floor.
"Leave the woman alone, you fat prick," Butch said, "or I'll kill you."
Then he leveled the gun at his father.
He squeezed the trigger once.
Click.
Twice.
Click.
The shotgun wouldn't work. He left the room, leaving behind a white-faced father—and a reborn one. The elder DeFeo took the fact that the gun did not go off as a sign from God, a miracle. Thereafter, the elder DeFeo started to hang pictures of Christ all around the house. Butch, who made the miracle possible, helped install religious statues out front.
His parents also tricked him into seeing a psychiatrist over the incident. (Butch had been to psychologists on a number of occasions when he was young.) One morning Butch's parents drove to the city and insisted Butch go with them. Next thing he knew, he was sitting in a psychiatrist's office. Halfway through his discussion with the psychiatrist, the doctor suggested that DeFeo should be hospitalized, that he didn't belong on the street. Butch reacted by storming out of the office.
The psychiatrist bluntly told his parents that DeFeo would one day kill them all, that he must be hospitalized. The elder DeFeo responded with laughter, saying the psychiatrist didn't know what he was talking about. But Louise DeFeo had a different reaction. She cried.
DeFeo himself told his family that one day he would kill them. In fact, a couple of months before he killed them, he moved out of the house and into a girlfriend's house because he was afraid he might do it. (He had always been afraid of his potential violence and once gave that as a reason why he switched from speed, which agitated him, to heroin, which made him mellow.) But for some reason, the elder DeFeo bullied and cajoled Butch to move back into the house with tactics such as disabling Butch's car and cutting off his salary. So Butch moved back in. The die was cast.
On Thursday, November 12, the day before the murders, Butch did not go to work, complaining of an upset stomach, and his father left work early to go home and, he told people at the dealership, "have it out" with Butch over the phony robbery.
Before he left, he also made a cryptic, chilling, prophetic statement to his nephew Michael Brigante: that he felt that today was the day Butch was going to kill them all. Someone asked Brigante if he tried to stop him or do something, and Brigante responded that if you knew the elder DeFeo, you'd know no one could tell him anything.
At DeFeo's trial, the key issue was whether he was legally insane—whether he knew right from wrong—at the time of the murders. There was no real debate as to whether or not he was the murderer. On the side of the prosecution was Dr. Harold Zolan, who examined DeFeo twice and declared that he was an "antisocial personality . . . people who have a code of their own. People who are grossly selfish and callous, who are extremely egotistical, who have no capacity to experience or to feel guilt . . . their main purpose in life is self-gratifi cation . . . and [they are] both passive and aggressive." Zolan's testimony
indicated DeFeo had developed into a very aggressive individual.
Killing his father and family was a way of proving just how "big" and aggressive he was. And Zolan saw no psychosis: DeFeo was responsible for his acts.
Defense psychiatrist Dr. Daniel Schwartz saw it differently: he believed that DeFeo did not know right from wrong when the murders were committed. Schwartz, in the first place, saw DeFeo as being terrified of his father. "As wild as he could be with others," the doctor said, "he could not respond in kind to his father. But the anger had to go somewhere. . . . His came out, among other ways, at most of his teachers and schoolauthorities, who for many children quite naturally starred as parent figures."
DeFeo had both hatred and love for his father, and he was torn by them—so much so that he retreated into a world of paranoid delusions to "turn his anger away from his father. But
it swung back." And DeFeo came to believe that on the night of the murders his family was
going to kill him, said Dr. Schwartz. To him, it was an act of self-defense: he killed them before they killed him.
And the war movie he had watched, Castle Keep, had played a role, Schwartz continued. This was about a group of American soldiers who defend a castle filled with precious art, but in the end are all killed. Dr. Schwartz said that DeFeo told him he was moved by the violence in the film, but that the movie had other meanings to him.
"There is a significant theme in the picture," the doctor said, "of some soldiers who have renounced violence and who walk through this town in Europe preaching religious nonviolence, but it's to no avail. Religion, peacefulness, has no effect in this movie. The violence will win out . . . and I think the message to the defendant [was that] nothing was going to prevent this final showdown."
Ronald DeFeo Jr.
One of the puzzling things in the trial was DeFeo's statement that he didn't hear the sound of the rifle firing. Schwartz cleared this up by saying it was the result of the process of "dissociation," where senses are shut down during intense experiences, a phenomenon Schwartz said was quite common.
But DeFeo had admitted that he heard Shaggy, the dog, "screaming," and in rendering its verdict, the jury apparently counted this heavily as evidence that DeFeo was, as Zolan had suggested, a skilled liar, a "malingerer." Why could he hear one sound and not the other?
A curious matter that was never cleared up was how no one in the neighborhood heard the shots booming from the house in the dead of night—the neighboring homes were only fifteen to twenty yards away. One explanation was that the large house muffled the sounds. Another explanation might be that people heard it and were too terrified to act, a la the Kitty Genovese case. Or maybe DeFeo had found the silencer he sought to buy a couple of weeks earlier but the police never recovered it.
Finally, why didn't family members respond or defend themselves in any way—or at least scream? Dr. Howard Adelman, the medical examiner, said there was a possibility the family was drugged, but he couldn't confirm it. Or possibly it all happened so fast that no one could respond, or for those few moments they were frozen in terror.
And maybe Dawn, who did speak to DeFeo, had shut down her mind against what she was hearing. We probably will never know for sure.
On the first ballot, the jury voted 10–2 to convict. On the second, 11–1. The holdout gave in after being read the testimony that confirmed that DeFeo could hear the barking dog. The judge sentenced Ronald DeFeo Jr. to six life sentences, one for each murder (murder in the second degree), to be served concurrently.
DeFeo did not react to the sentence. If there was shock or fear, he didn't show it. Then again, he had said that he never had any feelings about anything. "My feelings went away a long time ago," he once said.