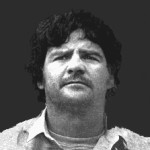 (article from the Crime Library):
The First Victim
Monday, November 17th, 1980 — Christine Anne Weller
Christine Weller,
victim
It was a murky mid-November afternoon as 12-year-old Christine Weller quickly pedaled the 10-speed, making her way home to the Bonanza Motel in the sprawling, rainy hinterlands of Surrey, B.C., 15 miles from the city of Vancouver. It was not unusual for the blue-eyed, happy-go-lucky tomboy to be playing outside since she loved the wide-open spaces. She also liked going into the shops, especially Surrey Place Mall. A new section of the mall had opened and she was meeting a friend after school on that fateful rainy Monday afternoon.
She spent a couple of hours chatting with friends and wandering around the mall, something that the kids did for amusement. By 5 p.m., late for supper, Christine borrowed a friend's bicycle to quickly make the three-minute, downhill ride to unit No. Two of the motel where she lived with her parents. She never got there.
Her parents assumed that she was staying at a friend's house, as she had done several times before. It took the better part of a week before they filed a missing person's report. Even then, Christine was treated as a runaway. When the police found the bicycle behind an animal hospital on King George Highway, just a few blocks from the motel, they knew something was terribly wrong.
On Christmas Day, a man walking his dog along a dike found her ravaged body at the back of a dump, just north of River Road, along the Fraser River in nearby Richmond. Christine had multiple stab wounds in the chest and abdomen, and had been throttled with a belt.
The Fraser River
Unbeknown to law enforcement, Christine's death was the first in a series of brutal murders that would claim the lives of at least 10 more youngsters of both sexes, between the ages nine and 18, from the greater Vancouver area. The police would eventually identify her as the first victim.
Clifford Olson Jr.
Clifford Robert Olson Jr. made it into the newspapers the day he was born, January 1st, 1940. He was one of the celebrated New Year's babies at St. Paul's Hospital, Vancouver, B.C. Born at 10:10 p.m. to Clifford and Leona Olson, they missed out on the big New Year baby prizes, a silver spoon and a case of canned milk, receiving instead the consolation prizes, a baby book and a dainty gift from Cunningham Drug Store.
An ordinary couple, Leona grew up in the Prairies before moving to Vancouver, getting work at a local fish cannery while Clifford Sr. delivered milk in one of the last of the area's horse-drawn wagons. They lived in a small house near the Pacific National Exhibition grounds on the East Side when Clifford was born.
The Olson family moved to Edmonton, Alberta, returning to the West Coast after the war when Clifford Jr. was five years old. Olson Sr. settled the family in a modest one-story house on Gilmore Crescent in the sprouting suburb of Richmond in an 80-home community built by the government for its servicemen after World War II. Little Clifford started school at Bridgeport Elementary.
Early on, Olson earned a reputation as a show-off. "When I taught him," declared a former teacher, "he deliberately misbehaved to be the center of attention. Sometimes it was almost as if he wanted to be caught." He was also skipping classes by the time he was 10 years old and by age 15 had failed his grade several times. He was jailed for the first time just after finishing Grade 8.
It was hard for anyone to get a word in edgewise when Olson was around. His compulsive talking was just one of the ways in which he controlled people. Forever the smart-alec, a loner, and a bully at heart, he never did have any close friends. Always in trouble, it was a lark for him to sell out-of-date lottery tickets door to door, steal milk money left on porches, and torment the local dogs and cats. It was rumored that he had smothered two local pet rabbits.
In 1956, he left Cambie Junior High School to work at the Landsdown Racetrack and by age 17, Olson's criminal career went into high gear. Over the next 24 years, he chalked up 83 convictions: obstructing justice; possession of stolen property; possession of firearms; forgery; false pretenses; fraud; parole violation; impaired driving; theft; break, enter and theft; armed robbery; escape from lawful custody.
Mugshot of Clifford
Olson as a young
criminal
He was sentenced to the New Haven Borstal Correctional Center in Burnaby in July, 1957, for B&E and theft. He escaped just long enough to go back to Richmond and steal a power boat, get caught, and be sent to Haney Correctional Centre. In fact, while continually involved in burglary, fraud, and theft during his youth and into his adulthood, he managed to stay out of prison only a few months at a stretch.
By the time Olson was 41 years old, he had spent only four years of his adult life as a free man. A petty but chronic offender, prison became a revolving door for him. The Lower Mainland Regional Correctional Institute in Burnaby, known locally as Oakalla, was just one of the many prisons in which Olson spent a lot of time.
He escaped seven times between 1957 and 1968. When granted parole in 1959 and 1972, it would be continually revoked due to Olson's incessant criminal conduct.
Olson was stabbed seven times by a gang of prisoners while in Prince Albert Penitentiary for informing on two convicts planning to smuggle drugs, and managed to persuade the Saskatchewan Criminal Compensation Board to award him $3,500 because of his "unusual degree of moral and physical courage."
Olson's siblings, two younger brothers and a sister, grew up to be law biding, middle-class citizens, but Clifford was always in some type of trouble with the law. "No one could explain why Olson was the way he was," explains Ian Mulgrew in Final Payoff. "Like many psychopaths, there was virtually no traumatic event in his childhood that could be identified as the trigger of his homicidal rage. His parents had simply become inured to the regular visits from police officers, the shame of the newspaper reports and the continued disruptions their son's behavior caused in their lives. They tried to help him out when they could, but they had long since given up hope of rehabilitating him. They aimed only to limit the damage he did to their lives."
Spring Break
The police probe of Christine Weller's murder continued when another young Surrey girl disappeared.
Thursday, April 16, 1981 — Colleen Marian Daignault
Colleen Daignault,
victim
Colleen Daignault wouldn't talk to just anybody, shy as she was. A shade over 5 feet, the 13-year-old girl, with her lovely long brown hair and fresh face, smiled sweetly in her missing person's photo. She had told her granny that she would be home about 4 o'clock in the afternoon, returning from a girlfriend's house after spending the night.
Dressed for a fine spring day, she wore a colorful red and white jacket, blue jeans, and white running shoes. Two buses would take her home to Old Yale Road in Surrey, near the Scott Road exit on the Surrey side of the Patullo Bridge that spanned the Fraser River.
Patullo Bridge was a frequent Olson
travel route
Around 1 o'clock, while waiting at the bus stop in nearby North Delta, a car pulled up. Clifford Olson called to her from the car window, catching her attention.
Three days later, Colleen was reported missing. The Mounties treated her case as a runaway. With about 300 missing person's reports filed in the Vancouver area every month, Colleen was just another statistic.
It wasn't until September 17th that the skull and skeletal remains of Colleen were found in an isolated Surrey forest, east of 144th Street near 26th Avenue, not far from the American border.
Years later, Colleen's sister, Coreen, remembers her as always doing her homework and getting good grades. Just three days before Colleen's birthday, Coreen was called to identify her clothes. "There was only half a bra, but I recognized the red Adidas T-shirt that she borrowed from me."
Only five days after Colleen's disappearance, a 16-year-old boy went missing.
Wednesday, April 22, 1981 — Daryn Todd Johnsrude
Daryn Johnsrude,
victim
Also on Easter school break 16-year-old, Daryn Johnsrude vanished. He had been in Vancouver for only two days. His mother flew him to the West Coast as a birthday gift. It was a much-anticipated visit to Coquitlam with her and his 9-year-old sister and 12-year-old brother. The easy going, 5-foot-5-inch, 90-pound boy had traveled from Saskatchewan where he lived with his father. He planned to finish his school year, and then come back to live with his mother and find work. Their home was only a half-block away from the Coquitlam housing complex where Olson moved.
Daryn was last seen in a drug store at the bustling Burquitlam Plaza buying a package of cigarettes. As his luck would have it that day, it was also one of the two shopping malls used as a hang out by several children living at Olson's complex.
Burquitlam Plaza
"There were many other younger boys and girls in the complex who didn't like Olson very much either," writes Jon Ferry and Damian Inwood in The Olson Murders. "Behind his back, they called him `the creepy bogey man' or `candy man.' The tragedy was that there were so many more that could be taken in by him. With his easy smile and fierce brown eyes, no one would deny he had a certain animal magnetism. When he wasn't cruising around in his car for pickups, Olson hung around with the kids at the Burquitlam or Lougheed Mall shopping centers. He seemed to have a huge emotional and physical need for young children."
On May 2nd, Daryn's bludgeoned body was found lying beside a lonely dike at Deroche, a small rural community east of Vancouver, seven miles east of Mission on the north bank of the Fraser River. His body lay crumpled at the bottom of a rocky embankment. The coroner said the boy died from repeated hammer blows to the head.
It was a confusing case. Olson varied both the sex and the age of his victims. This was one of the problems for investigators, given what was known about sex offenders in the 80s. Experts believed that predators targeted victims of one sex and age bracket. Consequently, the Mounties did not link Daryn's case to the murdered girls.
Gotcha!
"I can well understand why those kids got into a car with him; he really had the gift of the gab."
—An RCMP officer.
"Hey lemme buy ya a beer after work," Olson would say to a youngster. It was just one of the verbal traps he used to get potential victims to a secluded location or talk them into going to a motel room. He plied them with alcohol and drugs, making them virtually helpless. Some he raped, and then released, but many of the victims he killed.
Even with Olson's small frame, at 5 feet 7 inches, 169 pounds, he would have found it easy to overpower the younger boys and girls. Posing as a construction contractor and handing out a Hale & Olson Construction business card, he impressed the youngsters, especially with the promise of work.
A compelling, anonymous story on the Internet, entitled I Survived Clifford Olson, reveals some of the other ways that Olson enticed the young people to trust him:
"On a promise of $5.00 per hour for landscaping labor he hired several of us skinny kids while turning away what I thought to be stronger more suitable workers." Olson raped some of the boys "by first singling out a person for special duties…and slowly gaining the confidence and respect of each individual by bragging about how bad he was and how he used to be. He used money or recreational rewards as bribes, even before the sexual activities occurred. Gift giving was one way of courting a child.
He would pick up victims at bus stops, walking on the street, riding a bicycle, or hitchhiking —- often with promises of work, enticing the youngsters into his car. According to Dr. Kim Rossmo, geographical programming expert, "Some he would drive home, some he would sexually assault, others he would murder. Olson himself doesn't seem to know why he killed those he did; on some occasions he has stated they were murdered so they would not report the assault to the police, and on others he has blamed his use of alcohol and pills."
Olson describes how a serial killer selects his victims and crime sites. By doing this in the third person, profilers contend that the information will be more substantial and will reflect their crimes, as did serial killer Ted Bundy in his collaboration with profiler Dr. Robert Keppel Ted Bundy And I Hunt For The Green River Killer, published in 1995 with William Birnes.
In an unpublished manuscript that Olson wrote on serial killers, with numerous misspellings and grammatical errors, Olson talks in the third person about selecting victims:
"In cases a lot are just encountered by the serial killer who is hunting for the victim he needs. As for how are they stalked, approached, attacked, and trapped, each serial killers has his own personal mode and manner or form of current style and fashion …the serial killer kills strangers 95 percent of the time because as the safest target in terms of avoiding detection…. Children: young boys and girls are frequently desirable victims by the serial killer for sex…. Most serial killers have selected there murder scenes by the place they take there victims to: as for the relevant geographic areas selected by the offender (serial killer) this depends on the seasons, and were the serial killer is killing." In fact, most of their victims are strangers although at times family members and acquaintances are slain."
Serial killer John Wayne Gacy killed young boys, claiming that he too found it easy to find victims anywhere: motels, clubs, parking lots, grocery stores, and if kids are the target, in schools, shopping malls, arcades or on the streets. He believed that he could drive anywhere, see what he wanted, and just get it.
Shadow Victims
Clifford Olson set his sights on Joan Hale at the popular Cariboo Hotel Lougheed Village pub, known locally as "the Cariboo." In 1980, the Cariboo's country and western décor, complete with wagon wheels mounted on the wall, muted lighting, and smoke-filled lounge atmosphere, attracted the locals from various middle class professions.
Joan did not know at first that Olson was just out of prison, but when she found out, it didn't bother her. She thought him charming and loved his "beautiful brown eyes." Within an hour, she was smitten. Olson moved in with Joan three days later.
"It was something I thought I needed," Joan explained later in a courtroom defending a lawsuit against her. "I needed that companionship, I thought, and I needed someone to protect me from my husband because he was coming around and bothering me. And Clifford seemed the perfect solution."
Joan became pregnant and they planned to marry. A month before the wedding, they had a son, Clifford Olson III. As his father before him, Olson also caused a ruckus just before his son's birth, getting into a shouting match at the Royal Columbian Hospital in New Westminster. It was already a pattern. Early on, he bilked Joan of her $43,000 divorce settlement, and went on a two-month spending spree. He became violent, and even more so after the news of her pregnancy. He got drunk more often and began to beat her. In a dramatic escalation of violence, Olson had already killed three children, one five days after the birth of his son.
Incredibly, the night before the wedding, Olson babysat several children while his fiancée went out to celebrate with her girlfriends. He sent the older ones to the store to buy bubble gum while he allegedly assaulted a 5-year-old girl. Olson was asked to go to the Coquitlam RCMP detachment because the mother had complained. He went to the station and denied the incident. The child was too young to testify and the police did not have enough evidence to charge him.
The couple was married on May 15, 1981, at the People's Full Gospel Church in Surrey. They had regularly attended a fundamentalist church, but changed to another branch when word got out that Olson had sexually abused several of the children. He had been caught sodomizing a young boy in a sauna. No complaints were filed.
North Road & Cottonwood, around Burquitlam Plaza
where Olson lived and abducted children
The Mounties would eventually find out how he was incapacitating the youngsters. Late in May, Olson was arrested for impaired driving and for contributing to juvenile delinquency. He crashed his car with his 16-year-old female passenger in Agassiz, a farming hamlet in the Valley about an hour from Vancouver. Olson had picked her up in the Cottonwood Avenue and North Road area of Coquitlam, Daryn Johnsrude and Olson's neighborhood. Although the young girl could not be convinced that Olson was a sex offender, she did tell the police that he had offered her a job, had bought her drinks and given her pills. She palmed one of the tiny emerald knock-out pills, later giving it to the police. The laboratory identified it as chloral hydrate, commonly known as knock-out drops or a Mickey Finn.
Tuesday, May 19, 1981 — Sandra Lynn Wolfsteiner
Sandra Wolfsteiner,
victim
Already on the hunt a mere four days after his wedding day, Olson picked up 16-year-old Sandra Wolfsteiner, who lived with her sister in Langley. The pretty, hazel-eyed brunette went to visit her boyfriend to take him to lunch on the Fraser Highway in Surrey. After visiting with his mother for a while, around 11:30 a.m., she made her way to the highway to hitchhike to the auto body shop up the road.
A mere 50 yards from the farmhouse, the boyfriend's mother watched Sandy get picked up by a man in a silver-gray, two-door medium-sized car, probably one of Olson's rental cars. He may have offered a job to her because Sandra was seen by a friend as she closed her account at the Royal Bank in Langley. She reportedly said that she had a good job cleaning windows for $13 an hour and that she would get to drive a Trans Am.
Olson persuaded Sandy to go to his cabin in the woods, up the Valley. He drove into the dense bush just off Chilliwack Lake Road. While walking into the woods, he smashed her head from behind. Olson later said he was enraged to find that she had less than $10 in her pockets. "She told me she had $100."
The police considered her to be just another runaway. "At the early stage," said an RCMP briefing document, "it was felt she was simply a missing youth and there was no suspicion of foul play."
They couldn't have been further from the truth.
'I Drive 'em Nuts!'
"It was top of the line for Clifford Robert Olson when it came to office stationery and business cards. When he ordered, he ordered nothing but the best; trouble is, he never paid for them."
— In his own words.
The B.C. Penitentiary, an imposing granite fortress along the main thoroughfare between Coquitlam and New Westminster, loomed over the industrial area of the Fraser River and the Patullo Bridge that crosses over to Surrey. The system provided a second home for Olson.
When the B.C. Pen was scheduled to be torn down in 1981, the draconian buildings were opened to the public, simply for curiosity. In Profile of a Serial Killer — The Clifford Robert Olson Story, an unpublished manuscript written by Olson, he explained, taking third person perspective, why he too decided to take a last look:
Olson, in spite of his many years in prison, paid a sentimental visit to the Old B.C. Penitentiary when it was opened to the public before closing down in 1981. Unfortunately for Olson this one last look at one of his old homes cost him his freedom. Olson trooped into the 102-year-old building with thousands of other sightseers for a prison tour, unaware there was a Canada-wide warrant out for his arrest. So when he peeked into the cell which had been his home for several years, he was recognized by one of these former guards and was quickly arrested by the New Westminster city police. Olson had last been in the B.C. Pen serving four years and nine months for a variety of offenses including theft, forgery and false pretences. His nostalgic return to the Old B.C. Pen cost Olson another month in the Matsqui before his sentence finally expired.
He loved to play the system maintaining, "I drive 'em nuts!" In the words of several of his custodians, they couldn't agree more. He demanded constant attention and made life tough for everyone. He was universally loathed but somehow managed to survive. Some of the law officers at Matsqui Institution characterized him as a con man, not as a killer. "He was seen as a thief, a false-pretense artist, a garrulous, extroverted, egotistical kind of person, but not as a sexual offender," said a former parole worker.
Olson was adept at playing the con game, knowing his way through the system. For many years, Olson reveled in petty crime. Initially, his record showed him to be a thief and fraud artist. His early years, 1957 to 1974, from the time he was an adolescent, were riddled with break-ins, escapes, and robberies. But, it did not stop there. Olson's deviant sexual side was also developing.
Olson started exhibiting more violent behavior in and out of the penitentiary. While in B.C. Pen in 1974, he repeatedly and persistently sexually attacked a 17-year-old fellow inmate. And in 1978, while on the outside, he indecently assaulted a seven-year-old girl in Sydney, Nova Scotia. When he actually began his murderous rampage, he was on bail for sex and firearms charges with pending child abuse charges in Nova Scotia, although the warrant could not be enforced outside of the province.
Back in prison once again in 1978, a deviant sexual side started to show while serving a two-year sentence for fraud, possession of stolen property, and possession of housebreaking instruments. The Olson Murders mention his reputation while incarcerated:
"During those seven years Olson's prison style changed. To some he was known as 'Bobo,' a man who viciously 'muscled' or buggered young inmates. To others he became knows as 'The Senator.' This was because he honed his cell-room lawyer's skills, by writing incessantly to both federal and provincial politicians with a barrage of complaints about prison conditions. He was also a `stoolie', a person who would inform on anyone for any reason. This trait made him unpopular with both inmates and guards and he eventually needed protective custody."
Olson was moved to the Super Maximum Unit (SMU), commonly known as the Penthouse, the "rat and rapo" unit, where the most despised cons were housed. It was here that he met accused child-killer Gary Francis Marcoux.
The 'Penthouse'
Olson was an informer on the outside of the prison walls and a snitch on the inside. While in the "Penthouse," he enticed rapist-murderer Gary Francis Marcoux to discuss the murder of a little girl, in written form, and eventually used it as evidence against him in a court of law. These letters and maps that were passed between Olson and Marcoux not only helped convict Marcoux, but taught Olson his own future method of operation.
Marcoux dumped the body of nine-year-old Jeanna Doove at Weaver Lake, a popular camping area in the coastal mountains overlooking the valley east of Vancouver. The letters between them described in graphic detail how Marcoux lured the little girl to his car from her trailer court in Mission, some 50 yards from the Genesis Halfway House where he was living, bought her ice cream, then raped, strangled, and mutilated her, leaving her tied to a large tree near Weaver Lake. He also described a nearby back road that connected to Pemberton and Whistler. He even provided maps on how to drive to the murder site. She was found on the July 1 Canadian holiday.
By January 1981, especially since Olson's release on mandatory supervision, a more sinister and frightening persona had emerged. He had charges in different jurisdictions. The Squamish charges included rape, buggery, and gross indecency; the Richmond charges consisted of buggery and indecent assault on a male; a May incident at Agassiz with a young girl; and a July indecent assault of another young girl.
Early in Olson's criminal career, after he had escaped from Shaughnessy Hospital, his parents made an appeal to the media: "I'd like him to give himself up," said Olson Sr., "But he knows what he's facing. He might have to serve 10 years. If he doesn't give himself up, I hope they get him before he does something really bad. He's done bad enough now."
"He's a coward by himself," said his mother, knowing her Clifford to be a show off. "He's got to have a partner. Clifford never does anything alone."
In retrospect, Olson's mother was partially right. Olson in his prison partnership with Marcoux had developed a taste and a methodology for killing. Olson bragged in his unpublished manuscript that he "started as a petty thief and graduated from the Canadian prison system as a prolific killer."
Ada Court
Ada Court, victim
5th Sunday, June 21, 1981 — Ada Court
Thirteen-year-old Ada Court of Burnaby had spent an uneventful Saturday night, babysitting at her brother and sister-in-law's Coquitlam apartment, the same family apartment complex where the Olsons lived and where Olson Sr. and Leona worked as caretakers. She babysat her brother's two toddlers so often that others often referred to the little ones as "Ada's babies."
On a sunny Sunday morning, Ada caught a bus to meet her boyfriend. Then, she simply vanished. Burnaby police were baffled. Nothing was missing from her locker at Cascade Heights Elementary School and there was no evidence that she packed any belongings from home.
Fifty-two-year-old Jim Parranto, a White Rock resident, believed he saw Olson disposing of Ada's body. Interestingly, this was not the first time that someone saw Olson as he disposed of a body, but the people involved did not understand what they were witnessing. It would later be discovered that Olson's vehicle had been stuck in the mud at least twice while disposing of two bodies. In one case, he even called a tow truck.
The Olson Murders relates the events with Parranto: "It was at about 8 p.m. on June 21 when the logging camp chef was driving through Weaver Lake, a popular picnic area. He turned a corner and saw a man beside a black pick-up truck, bending over the body of a young girl in a multi-colored sweater.
"I thought he was in trouble and I pulled up. I got out of the car and spoke to him and he turned around and looked at me. He wouldn't answer me when I talked to him. He just stared at me and I could see something wasn't right. I got back in the car. I thought, `hey, I'm getting out of here.'" After a harrowing chase by Olson, Parranto swerved onto a logging road leading to the Eagle River forestry camp where he worked, losing Olson on the road. A month or two later he reported what he saw to the White Rock RCMP.
Two months later, after Olson's arrest, dental charts confirmed that a skull and upper jawbone found by searchers near Weaver Lake in the Agassiz area belonged to Ada Court.
Parranto was asked if he was sure that he was looking at the serial murderer.
"It was Olson," he replied. "I was staring him right in the face."
By the end of June, Olson had murdered five children but only two bodies had been recovered: Christine Weller in Richmond and Daryn Johnsrude at Deroche, near Mission. But Christine Weller's murder had not been connected to Daryn Johnsrude's and Olson's other victims had not yet been found.
Suspected
The Mounties already had Olson in their sights in early July as a prime suspect while they were probing the Ada Court disappearance. "He was a suspect of the basis of his previous record of assaults and sex crimes," said Det. Dennis Tarr, Delta municipal police fraud investigator. "He was a good suspect. The probabilities were certainly there."
6th Thursday, July 2, 1981 — Simon Partington
Simon Partington,
victim
It was the disappearance of a nine-year-old Surrey boy, Simon Partington that was the turning point in The Case of the Missing Lower Mainland Children. The police could hardly list him as a runaway, given his young age and angelic-looking face. Police were sure that the slight, 4-foot-2-inch, 80-pound boy had been abducted.
At about 10:30 a.m., after Simon's usual big breakfast of cornflakes, he dressed in blue jeans and a blue T-shirt, hopped on his bike, with his brand new orange Snoopy book in the bike's basket, and headed for a friend's house. He never arrived. He disappeared only a few blocks from where Christine Weller was last seen alive. One of his school projects, a story he wrote called "The Hungry Tiger and the Gullible Duck," foreshadowed his untimely death.
An emotional public outcry spurred the police into high gear. The Mounties launched the biggest manhunt in Canadian history. At its height, as many as 200 officers worked on the case. The police had to admit that Simon was the victim of foul play, and the media began to note that news editors had underplayed the spate of earlier disappearances in Vancouver's suburbs. It was the tragic disappearance of this charming child that ultimately symbolized the horror of the series of child slayings.
Olson did not appear phased by all the media attention. Five days after killing the nine-year-old, he picked up a 16-year-old girl and her friend. After the usual offer of a window-washing job at $10 an hour, he persuaded one of the girls to go with him alone. Olson plied her with liquor and fondled her. When the girl resisted, Olson stopped. Later, when he was charged with indecent assault on this girl, the police still did not tie him to Partington's disappearance or the murders of Johnsrude and Weller.
Still, the death of Simon Partington just didn't seem to fit a pattern. Crown prosecutor John Hall later remarked: "It just doesn't fit, it doesn't fit still. I never could figure that one out."
The reticence of police departments to link cases of serial murder is very common. Several reasons are generally offered for this "linkage blindness": over dependence on generalized patterns and profiles provided by experts, the tendency to assume that most missing children are runaways, and concern that recognizing that a serial killer is at work in the community will have serious negative affects on police department resources, budgets and media scrutiny. "Linkage blindness" has allowed serial killers to go on murdering months and sometimes years longer because it has delayed alerting the public to the danger of an active serial predator and the mobilization of police resources to catch the murderer.
The Beast of B.C.
"The beast can take over to complete an identity if you leave a hole in yourself. In other words, it seeks a vacuum. In a healthy person the vacuum doesn't exist. There's a sense of identity that prevents a need for the dark awareness."
— A homicide offender describes his experience of the development of this dark side of the human psyche
Children are easy prey. Well aware of this, Clifford Olson took advantage of their innocence. He later told police that he quickly figured out that teenagers were alike, that they will tell you just about anything if you look and talk like you were interested in hiring them. Most were eager to get a job. Being the classic hardened "con" enabled him to control many situations. The confidence game gave him the opportunity to shield his real motives. He was used to getting his way, one way or another.
He appeared pleasant, friendly, even charming, openly approaching the children. However, his goal, far from friendly, was to gain their confidence until he was in a position to overcome any resistance.
"Olson picks up the kids and offers them a job," said Cpl. Les Forsythe, Burnaby RCMP. "He tells them he's a construction contractor and takes them to building sites to show them the jobs. That's the line. He gets their confidence—and remember he's good at that. He's shrewd. He's not dumb. He's not a bad-looking individual. He could be somebody's dad. These kids would follow along and he'd offer them drugs, or a drink, or a beer. This is after he's felt them out and knows that he can probably do it with a degree of safety."
Robert Shantz, who would serve as Olson's defense lawyer for the child slayings, intended to show that his client had adopted Marcoux' personality. Some evidence supported this theory:
· Olson left five children in the same Weaver Lake-Mission area that Marcoux used for his victim.
· One of the children was found close to where Marcoux's victim, Jeanna Doove, died.
· Olson used the same type of ruse to pick up some of his victims.
· Olson killed one of the victims at Whistler, connected to Weaver Lake by the back road Marcoux had mapped.
· Like Marcoux, Olson used strangulation to dispatch some of his victims.
· After Olson's sessions with Marcoux, Olson showed an insatiable appetite for child pornography.
More likely, Olson wanted to experience what Marcoux did. "He has gone from being essentially a nobody to being a somebody now," said forensic psychiatrist Dr. Stanley Semrau. "In his own eyes, he has celebrity status. He sees himself as the ultimate serial killer."
Peter Worthington, founding editor and a columnist of The Toronto Sun asked Olson after he was convicted how he compared himself with the famed fictional Hannibal Lecter, the cannibalistic killer of "The Silence of the Lambs."
"Peter, there is no comparison," Olson replied. "Hannibal Lecter is fiction—I'm real."
Addicted to Murder
"Clifford Olson some say had a Jekyll and Hyde personality who posed as a happy family man and a devout church goer, but in reality no one could see the monster ready to be let loose once he started drinking."
—In his own words.
Thursday, July 9, 1981 — Judy Kozma
Judy Kozma, victim
Phone Booth that Judy Kozma left
to join Olson
Clifford Olson drove up North Road toward downtown New Westminster, passing the looming B.C. Penitentiary on the way, as he did many times before on this main thoroughfare through the quiet residential streets of Coquitlam. It also accessed one of his favorite haunts, the Cariboo, where he often purchased off-sale beer. He liked to drink and drive, and have his passengers drink as well.
It was not unusual to be traveling with younger people in the car as he cruised the streets. This time, 18-year-old Randy Ludlow was with him. Little did Ludlow know that only a week ago, Olson killed Simon Partington and two days before was charged with indecent assault on a 16-year-old girl. Ludlow rendered an eye-witness account of the last few hours of Judy Kozma's life.
"Between eleven and noon on July 9th I was with Olson," Ludlow confirmed. "We were driving toward downtown New Westminster. Olson spotted a girl leaving a phone booth on Columbia Street in front of the Royal Columbian Hospital. He obviously knew her because he waved to her. She smiled and seemed to be happy to see him. He pulled over. She came across the street and talked with him."
Judy Kozma was on her way to Richmond to see a friend and to apply for a job at Wendy's restaurant. A shy, pretty brunette, she was desperately looking for a second job. She had met Olson at McDonald's where she already worked as a part-time cashier.
"Hop in," Olson said. "We'll take you there."
Once in the car, Judy exclaimed, "This is good. This will be faster than the bus. I would have had to go all through Vancouver to get there."
Olson offered the two youths the ever-present beer in his car as he drove to Richmond. They arrived long before it was time for Judy's job interview and too early for her to meet her friend, so they stopped at the Richmond Inn to buy some more beer. At one point Olson handed Ludlow a big wad of money to impress Kozma, only to take it back while getting more liquor.
"When we returned to the car," Ludlow would later explain, "Judy sat in the front passenger seat. I sat in back. Olson offered Judy a job cleaning windows at ten dollars an hour."
Leslie Holmes and Bruce Northorp in Where Shadows Linger tell what happened next: They returned to New Westminster where Olson bought a bottle of rum at the liquor store near the foot of 10th Street. He returned to the car with the rum, coke, and plastic glasses. On Olson's instructions, Randy mixed drinks for all three.
"Olson encouraged Judy to have another drink," related Ludlow. "She didn't want more."
Olson persisted. "Give her another drink, give her another drink," he ordered.
Eventually Judy agreed to take a light one. "Olson told me to mix it," said Randy. "I gave her a glass of coke with no rum. I caught Judy's eye and signaled it was only coke."
Judy took a sip and said, "This is really strong."
"Olson looked at me and nodded, indicating I had done well by giving her a stiff drink," Ludlow continued.
Olson then gave Judy some tiny green pills, saying, "Here, take these, they'll straighten you out. They keep you from getting drunk." She took the pills.
Olson parked in the underground garage at the complex where he lived. Ludlow and Judy stayed in the car while he went to his apartment. Ludlow reflected, "This was the only time I detected any anxiety on her part. She was nervous and upset. I put it down to the fact she was fifteen years old, she had been drinking, and she was going to miss her job interview. She was crying and I wiped the tears from her eyes. Olson returned shortly and she seemed her old self again."
Olson then dropped Ludlow off at the Lougheed Mall.
"The next time I saw Olson he said he dropped her off at Richmond. I learned much later he killed Judy, then went on vacation the next day." Olson took Joan and little Clifford to Knotts Berry Farm near Los Angeles in the U.S. until July 21.
More Disappearances
A serial killer was on the loose and the people in the Lower Mainland and Fraser Valley region of British Columbia were gripped with fear. In the short time span, from November 1980 to July 1981, a number of children had gone missing, and were later found dead. Parents in suburban Vancouver complained that the police were not treating reports of the missing youths seriously enough. The 200 Mounties in the Surrey detachment processed roughly 2000 missing-person cases and investigated some 18,000 criminal code offenses in those two years. Many of the juveniles turned out to be runaways, congregating on the Granville Street area downtown, while some stayed with friends or out partying past their curfew, without informing their parents. The police figured, "They'd turn up" — and for the most part they did.
"When a child of ten or less is missing for more than a day," writes Derrick Murdoch in Disappearances, "it is unlikely to be from the child's own choice. In the second half of childhood the reverse is true, particularly between the ages of eleven and fourteen when the child is dealing with emerging sexuality…. The combined totals for the next age group from fifteen up are not so high…. For the police, runaways who are over the age at which they are considered juveniles in their province (sixteen, seventeen or eighteen, as the case may be) must be treated as free agents."
The book Final Payoff explains what the policing was like then: "There were roughly six thousand traffic cops, fraud investigators, homicide detectives, Indian special constables, political bodyguards, analysts and administrators in the province's law enforcement system. Each force and detachment was a separate and distinct entity with its own internal bureaucracy, but they were expected to act in concert. That rarely happened and the problems of inter-detachment and inter-force communication was one of the reasons Cpl. Les Forsythe wanted everyone who had dealt with Olson or who might have an active missing-person file at a meeting."
Unfortunately the RCMP chain of command was undergoing dramatic upheaval in the spring and summer of 1981. The West Coast ranks were experiencing widespread staff shortages and low morale, which affected daily operations that coincided with Olson's killing spree.
July 15, 1981 — Olson's name was first mentioned at a law enforcement conference
As the person responsible for Ada Court's case, Forsythe continued to build a case against Olson. In a more coordinated effort, a meeting was scheduled for RCMP officers and local police departments from Vancouver and the Lower Mainland communities of Richmond, New Westminster, Surrey, Burnaby, Coquitlam, Mission, Langley, Agassiz, and Maple Ridge. He prepared a five-page profile on Olson for the July 15 meeting with the Mission Detachment investigators: "It outlined Olson's known and suspected recent criminal activities, his trait of offering his intended victims a job for ten dollars per hour, his penchant for borrowed or rented cars, and his known recent addresses in Surrey and Coquitlam."
"This meeting," Les explained, "is simply a brainstorming session of investigators from around the Lower Mainland who have a common interest in missing persons investigations." When the story aired, viewers took note of the police's growing concern about the missing children in the Greater Vancouver area.
The police decided to consider Olson as a suspect in The Case of the Missing Lower Mainland Children. An RCMP police-briefing document took up the story of the crucial July 15 meeting. "It is stressed that at this juncture, although Olson was considered a possible suspect in the disappearances/murders, a considerable picture of uncertainty existed. It was not clear whether all the children reported missing were, in fact, genuinely missing or whether foul play had been involved. The matter of whether or not the disappearances themselves could be connected or whether they individually or collectively were connected to previous unsolved murders was also open to conjecture, although under active analysis at the time. It should be stressed here that Olson had earlier been considered as a possible suspect in the Christine Ann Weller homicide (body found in Richmond 12-25-80), and that of Mary Ellen (Marney) Jamieson homicide, which occurred in the Sechelt area on 8-7-80. He was later dropped from prominence in the Weller investigation when a stronger suspect surfaced, however Olson remained of interest to our serious crime unit in the Jamieson case."
Thursday, July 23, 1981 — Raymond King Jr.
Raymond King Jr.,
victim
"There's just no way he could have run away," Raymond King's father had said. He was not a runaway. The slight, sandy haired Ray King Jr. was enjoying his summer holidays and looking for his first real job. He made his routine trip to the Canada Manpower Youth Employment Centre, chaining his bike behind the building. Keen to do any type of work, he had come to the center so often over the summer that the staff was getting to know him.
Young Ray met Olson that day. Lured by a promise of work, Olson drove them along a route he frequently traveled, along Highway No. 7 towards Harrison Mills and Weaver Lake. Turning off the highway, he headed for the popular camping area then took a rough, back-country road that led to a B.C. Forest Service campground beside the Alpine Lake. He staved the boy's head with rocks and then dumped the youngster's body off the steep, hillside trail.
The police did not think that the 15-year-old boy would have abandoned his bike. "Usually if a kid is going to run, he'll do one of three things with his bike; leave it at home, use it to make his 'getaway,' or sell it to a friend for a few bucks," said Ed Cadenhead, deputy police chief of New Westminster.
The night that Olson killed the young boy, he had logged 403 kilometers in the car he rented from Metro in Port Coquitlam. Forever on the lookout for potential victims, he spoke to the Metro rental clerk: "He offered me a job shampooing carpets in his apartment complex he said he owned at Lougheed Mall," she said. "He only came in to get a car on the days he knew I worked. The job he offered was $16.60-an-hour, more than I get here, and I was supposed to let him know. Thank God I never did."
Just two days later, July 25th, Judy Kozma's body was found near Weaver Lake. Then, the killer struck again.
Body Count Rises
"I had a dream of Terri Lyn being nude in the bush. I dreamt her left arm was up and her right leg was down. When the police found her, her right leg was up and her left arm was down. The exact opposite. So actually my dream was telling me she died. But I didn't want to believe it."
— Terry Carson, mother of Terri Lyn, 15-year-old murder victim.
The plastic, canary-yellow "Do Not Cross — Police Line" tape was strung from the trees near Weaver Lake, the rugged recreation area east of Vancouver. The forensic experts exhumed the remains of a 14-year-old girl. She had been repeatedly stabbed in the head, neck, thorax and abdomen and dumped not far from where Daryn Johnsrude's body was found and near where Marcoux had dumped his victim five years earlier. The young girl was a tourist, and at first nobody knew that she was missing.
Saturday, July 25, 1981— Sigrun Arnd
Sigrun Arnd, victim
Sigrun Arnd, a visiting German student from Weinheim, a small Rhine Valley town, was spotted with the killer in a Coquitlam pub, and then later by a couple of passengers in a passing train, where she was crouched with a middle aged man who turned out to be Olson. It was only after he confessed that her name was added to the murder list.
Mr. & Mrs. Arnd received the devastating news by long distance. "It was on August 28 when the telephone rang," Mrs. Arnd later told the Vancouver Sun. "My sister in Vernon was on the line and told me that the police were there and she was now going to translate a very sad message. The police had found a dead girl who might be Sigrun. She was an intelligent, suspicious girl. We discussed frequently how she would never get into a stranger's car, not to mention that she would never hitchhike. But obviously in Canada she did."
Sigrun left behind a diary. "She raved about the trips by boat and horseback but, most of all, she fell for the friendliness, open-heartedness and eagerness to help of the local people," Irmgard Arnd said. "I'm sure it was because of this that she lost all her natural caution and timidness."
Her body was found in Richmond, partly buried in peat in a trench, some 400 yards from where Simon Partington had been unearthed the day before.
Two days later, another youth vanished.
Monday, July 27, 1981 — Terri Lyn Carson
Terri Lyn
Carson,victim
Terri Lyn Carson's mother would eventually sit in the courtroom as the wheels of justice turned. Grief-stricken, it was a sad sight to behold as she mourned her 15-year-old's murder. Terri had left the family home on Monday morning at about eight o'clock. A slight girl, about 105 pounds, a little over 5 feet, she was no match for Olson who stopped and offered her a ride that included a drink, laced with drugs. She was just another student looking for a summer job so Olson's ruse worked well and the drink was a sort of celebration for having found a job. As he had done with a few of the others, Olson drove away from the city into the wilderness four miles east of Agassiz, out on the north shore of the Fraser River. He turned off at Rosedale, a rural area. In the forest, he strangled her, burned her clothes and threw her purse and shoes into the Fraser River.
Although Olson was a prime suspect and they watched him, they had nothing to charge him with in relation to the murders. On July 29th the police dropped surveillance because as the Mounties put it, "it became obvious that Olson had detected the fact that it was in place." It would not be reinstated until August 6th when he returned from a trip to Alberta with Joan and the baby.
Meanwhile the Mounties were still trying to "get their man".
Manhunt
"You have to be a little bit better than him. You have to be able to understand him a little better than he understands you. I think he's a sick man and he needs something. He's got an ego that is as big as the stars and if you feed that ego, you're going to get what you want."
— Cpl. Les Forsythe, Burnaby RCMP.
Only two of the children's bodies that had been recovered so far had been connected by police: Daryn Johnsrude and Judy Kozma. Still, the police were convinced that Simon Partington and Ada Court had been murdered as well. Christine Weller was still not considered a relevant case and the other missing persons were just that — missing.
As many as 200 police were involved in the manhunt. The Serious Crimes Unit had Staff Sergeant Arnie Nylund fielding press calls. "Any detachment with a missing child should call us, make us aware of them so that we can assist in an overview capacity," he told reporters. "We will look at all of them. We're looking to see if there's a connection but so far we haven't seen one. Maybe one person is responsible for one, maybe another for two. We want parents to be concerned and beware for their kids. If someone did attempt to pick them up and didn't succeed, we'd like to hear from them. There must be some that don't get in the car. We're still gathering and coordinating information and assisting the various detachments."
Thursday, July 30, 1981
Meanwhile Const. Fred Maile of the RCMP Serious Crimes Unit had a simple strategy. His idea was to surreptitiously tape a conversation with Olson insinuating some kind of a reward. The idea was, if Olson was the murderer, and he thought he could make some money from that fact, he might go back to the crime scenes in order to retrieve some physical evidence. If he was not the murderer or knew who the murderer was then maybe he would tell them.
Olson met Detective Tarr at a White Spot Restaurant, and then was joined by RCMP's Corporal Maile and Corporal Drozda. The hidden microphones transmitted the conversation to a Mountie in a car in the parking lot. Final Payoff describes this tense 30 minutes:
"Quite a few homicides around here, right?" Maile began. "And we understand that you might be able to help us. We're prepared to compensate you for whatever you're able to tell us or help us. But we have to know if you are able to help us.
"He stopped and blew on his coffee. All eyes were on Olson. For a while he said nothing.
"Finally, Olson said he wanted to be hired at a salary of $3,000 a month. In exchange, he claimed he would provide information about the disappearances."
Olson's eyes lit up at the idea that they were coming to him for information. He spent much of the time bragging about testifying in Marcoux's conviction of "that Jeannie," promising to get back to them if he found out anything.
With a casual, "Well, I'll get back to you if I find out anything," the officers watched the killer leave the restaurant and amble out into the sunshine. No one followed the man suspected of murdering several children.
Killer Highway
Thursday, July 30, 1981 — Louise Chartrand
Louise
Chartrand,victim
After meeting with the police earlier in the day, that evening Olson went to meet his lawyer, Bob Shatz. On the way, he spotted 17-year-old Louise Chartrand, who was described as "very tiny and young-looking for her age." The youngest of seven children, she had migrated from Quebec with three of her sisters, settling in the Fraser Valley town of Maple Ridge, about 20 miles east of Vancouver.
In reconstructing the events, the police believed that Louise hitchhiked part of the way to her night-shift waitress job with a man. After she was dropped off, she headed for the store in downtown Mission to buy cigarettes. It was only a 10-minute walk from the restaurant where she worked. During this time Olson got her into his car, drugged her, and headed to Whistler. On the way, he even stopped with Chartrand in his car at the Squamish RCMP detachment to pick up a confiscated gun, but was turned away because the officer in charge of court exhibits was not available. Then, Olson headed for the treacherous Killer Highway, named by the locals because of the numerous fatal car crashes that followed the snow. It led to Whistler, another 45 minutes from Squamish.
Olson drove into a gravel pit, north of the ski resort, and then smashed the girl's skull with repeated hammer blows, burying her in a shallow grave.
Louise's fellow employees at Bino's restaurant checked with her family when she did not arrive for her 8 p.m. shift. One of Louise's sisters telephoned the RCMP detachment the next morning.
The RCMP took action, immediately suspecting foul play: "We know she isn't a runaway, the fact that she is missing is inconsistent with her normal pattern of behavior," said Insp. Pat Wilson. And Sgt. George Nussbaumer had declared, "It's not as if she is running away from an unhappy home."
Long Hot Summer of '81
"I still relive the horror of those events when I am forced to recall the summer of 1981." — Supt. Bruce Northorp, head of the task force in The Case of the Missing Lower Mainland Children.
The summer heat wave did nothing to help the investigation. By the first week of August the panic was spreading. Newscasts and headlines fuelled the fright: "Cunning Killer With Blazing Eyes" and "Hot Summer Helps Slayer Elude Police." The political pressure mounted daily.
Meanwhile a task force was in the works to handle the disappearances, directed by Superintendent Bruce Northorp, who was responsible and accountable for the Olson case. The coordinated investigation was begun in the hopes of quelling the brewing public panic. "I felt strongly the families of the victims should not first hear any disturbing news through the media," explained Northorp. "They deserved every consideration available and should know they were not forgotten in the rush of police work."
British Columbia was covered by a structure of separate police jurisdictions, with a dozen independent city forces, and over one hundred detachments staffed by the Royal Canadian Mounted Police (RCMP). The multifaceted organization comprises federal, provincial and municipal policing responsibilities.
"Two of the problems affecting the Olson investigation," described in Where Shadows Linger, written in the year 2000, "were transfers of key personnel and shortages of staff, which resulted in overtaxed police officers. Some left the province, others were transferred to new duties within District One…. Back in 1981 there were also problems of jurisdiction and second-guessing, with subordinates criticizing the men in charge. In major cases, an investigator may solicit a range of viewpoints from colleagues, but the overall investigation can rarely be run by consensus. There must be a decision-maker. This was evident from the fragmented efforts that occurred before Bruce Northorp was named coordinator of the 1981 task force."
It was when Northorp came aboard that the police began tailing Olson again.
The Watchers
Under surveillance, Olson was not easy to follow. The "watchers" claimed that he would stop in the middle of the street, make sudden inexplicable U-turns, and go down one-way alleys, stop, and reverse. He also had a habit of continually changing rental cars: a Pinto, a Mustang, a Bobcat, a Lynx, a Honda, a panel truck, a Citation, an Escort, an Omega, and an Acadian. Olson drove incessantly. At one point, he traveled over 20,000 kilometers in three months in 14 different rental cars. In mid-July he drove an Escort 5,569 kilometers in just two weeks.
Olson took the ferry over to the Vancouver Island and, after burglarizing two Victoria residences, made his way up north towards Nanaimo, an old coal-mining town. He pulled over to the side of the road to pick up two young women hitchhiking. Hitchhiking was a popular mode of travel for the young in 1981.
Roughly three hours later, writes Ian Mulgrew in Final Payoff, the car was weaving across the highway on the other, sparsely populated side of the massive island. Occasionally, it hit the soft shoulder. At the bottom of Hydro Hill, just before the turn-off for Long Beach, the car slowed. It turned onto a dirt-logging road, kicking up a cloud of dust and gravel.
Moments later, two local RCMP squad cars pulled to a stop across the entrance to the road, blocking the car's retreat and disgorging the uniformed Mounties. They had been summoned by the helicopter crew.
Two police officers followed the car's path, picking their way through the Douglas fir and spruce that lined either side of the isolated track. In the distance, they could see three people standing outside the car passing a bottle, and they could hear Olson. They moved closer. He was telling one of the women to take a walk. He began to yell. The police decided it was time to move.
Olson spotted the police emerging from the undergrowth and sprinted back to the car. He threw the vehicle into gear and roared back the way he had come, but he was arrested at the roadblock. The women were confused, but safe. Olson said they had only stopped so he could relieve himself.
Police charged him with impaired and dangerous driving, impounded his car, and took him to local lock-up. The police searched his rented car and found a green address book with the name of the 14-year-old New Westminster girl—Judy Kozma.
By now, Olson had killed 10 children in southern British Columbia and, by the time he was finished, 11 would be dead. It was not the largest body count in the occurrence of multiple murders in Canada —- in 1949, all 23 passengers aboard a Dakota were killed by Montreal jeweler Joseph Guay, for the sole purpose of killing his wife —- but the Olson murders caused the greatest terror and horror.
"When he was arrested, only three bodies had been discovered and identified. The police did not yet know how many children had been murdered.
A Momentous Day
August 6, 1981
"The 6th was a momentous day," Northorp declared. "It was the beginning of the events that have probably taken Olson off the streets of Canada for the rest of his life." It was also the beginning of several days of methodical police work. The surveillance team went into high gear.
August 7 to 11, 1981
Solving a murder usually boils down to a lucky break. Peter Sutcliffe, the Yorkshire Ripper, was arrested by two vice cops concerned about license plates. He was driving a car with stolen plates, was arrested, and later confessed to 13 murders —this after some 250 detectives had been deployed and almost $8 million dollars had been spent on the investigation. There was also evidence that Sutcliffe had been questioned nine times by the English police and was even arrested once with his hammer, his favorite weapon, but somehow happened to escape detection.
The extensive national coverage of the missing children was likened by some members of the media to the Yorkshire Ripper case in Great Britain and the Atlanta child killings. U.S. Human Resources Minister Grace McCarthy claimed: "We have our own little Atlanta going on.
"I feel the police, in total, did a tremendous job," Northrop concluded. "All you have to do is compare the length of time it took the police in other jurisdictions to solve their serial killings. Twenty-nine blacks, twenty-seven male and two female, ranging in age from seven to twenty-eight years, were murdered in Atlanta, Georgia, from July 1979 until May 1981. In 1981 only two of the cases were close to being cleared when Wayne Williams was indicted for the two latest murders, both of adults."
Also in both jurisdictions all of the victims' bodies had been found. Not so in the Olson case, eliminating the chance of securing leads or even knowing if one person was responsible. "The fact that known and suspected victims were both male and female," said Northorp, "was in itself most unusual and further complicated matters," ignoring the fact that the Atlanta child murders also involved victims of both sexes and a wide range of ages, including young adults.
"We didn't interview Olson until his arrest on the 12th of August," said Maile, "because we didn't have anything."
August 12, 1981
"I had no idea this would be the day when the big break would come," declared Northorp, "nor did Olson have any idea this would be his last day as a free man." The decision was made to arrest Olson on Vancouver Island, then commence intensive interrogation.
August 18, 1981
Olson was charged with the first-degree murder of Judy Kozma, which ultimately resulted in a full confession.
August 21, 1981
Supt. Bruce Northorp had been heading the task force for three weeks with no real guidelines to follow. He had to assemble some 150 officers who were at that time working the case, digest all the information accumulated before he took the assignment, plan strategy, deal with the media, and a myriad of other details. He was shocked at the turn of events. "At 8:35 a.m. I got a real jolt," said Northorp. "I learned for the first time of the $100,000 deal put forward by Olson."
The "Cash-for-bodies" Deal
"I'll give you eleven bodies for $100,000. The first one will be a freebie," Olson offered the police.
"I felt the intense pressure over the ensuing hours," said Northorp. "We were so close [to breaking the case]. But could Olson really be so stupid as to enter into an agreement that would likely result in his spending the balance of his days in prison?" Still, there was no concrete evidence that the missing children and the murders were related.
The bodies of Weller, Johnsrude, King, and Kozma had been recovered. Olson proposed a schedule to recover the missing bodies of the dead children, one at a time, in a specific order and then money would be placed in an account:
1. Chartrand at Whistler
2. Daignault at Surrey
3. Carson at Chilliwack
4. Four locations where evidence would be found
5. Court at Agassiz
6. Wolfsteiner at Chilliwack
7. Partington at Richmond
8. German girl at an unspecified location "You'll get statements with the bodies," said Olson. "I'll give you all the evidence, the things only the killer would know."
As Olson led police to further bodies, Northop said in his co-authored book Where Shadows Linger, "I was convinced Olson's admission to two more murders was merely a ploy, bearing in mind his many escapes from custody, tight security was laid on. Olson was to be taken in a car with three unarmed police officers, with one handcuffed to him. The car was to be escorted by two other cars, with two officers in each, armed with revolvers, rifles, and shotguns. District Two was alerted that Olson might be taken their way, and I arranged for the use of a police aircraft. If escape was on his mind, he would not succeed."
In the year 2000, in a Vancouver Sun article called "Ex-Mounties Deny Olson Case was Botched," two retired RCMP officers, Fred Maile and Ed Drozda, among other disclaimers, said there is no truth to allegations in Where Shadows Linger: The Untold Story of the RCMP's Olson Murders Investigation, that flaws in the investigation may have allowed Olson to claim seven more victims before he was finally caught. Drozda said, "Hindsight plays such a large part. It is so wonderful with all the information before you to say, `Oh wow, look at this.' At the time you are putting together a puzzle and these pieces somewhere along the way have to fit. It's not only surfacing someone who is a suspect but also in putting the evidence together to take it to court and get a conviction."
Maile's boss, Staff Sergeant Arnie Nylund, commented in Where Shadows Linger, "Fred seemed to know what he was doing, and I had never seen anything to indicate otherwise. It is easy to view these things in hindsight and draw conclusions. We had other suspects that looked better than Olson. Don't forget, it was not apparent a serial killer was on the loose. Up until then the guys were busy working on a number of other homicides not related to these cases at all. After Olson was in jail we had all kinds of second-guessers. We did the best we could with what we had. I have nothing but respect for the guys and how they did it. It was terrible, just terrible for those members who accompanied Olson when they were recovering those bodies. It was so bad I had to send one man home. He just couldn't take it anymore."
"It's not an investigation you like to talk about too much because of the nature of what he was doing. I mean he was killing children," Maile told the Vancouver Sun. "To me, if there was ever an image of the devil, it was Clifford Olson."
The Deal Exposed
The secret deal had been cut in 1981, but was exposed to the media a year later.
"Olson Was Paid to Locate Bodies" was just one of the bold front-page headlines on January 14, 1982 in the Vancouver Sun. On January 15th the Sun headline read: "Olson Deal Greeted by Disgust." The police had not disclosed the cash deal for fear of prejudicing Olson's right to a fair trial. At some point the Attorney General of British Columbia, the federal Solicitor General, the Commissioner and Deputy Commissioner of the RCMP in Ottawa, as well as the Prime Minister of Canada would be drawn into the controversy.
Many thought it repugnant that Olson was profiting from his crimes. "I found it unthinkable he should be paid to provide evidence," said Supt. Bruce Northorp, the head of the task force. "The proposition to pay Olson's wife was simply splitting hairs. She was not separated from him, and Olson stood to gain even if monies were paid to his wife. The situation may have been different if she were separated and were supplying information as to past criminal activity. That was not the case."
Northorp had to admit though that he felt a tremendous sense of relief that the killings were solved and no more children would die. When asked what evidence had been found, Northorp replied, "I won't go into detail. Essentially, they were items, which could be established as belonging to each of the four victims, whose bodies had been found without Olson's assistance, thus establishing he was the killer. Only the killer would have knowledge of where these articles had been hidden."
The Attorney General of British Columbia, Allan Williams, also wondered how such an appalling deal had been made. Yet the good news was, in exchange for $100,000, the Attorney General could guarantee a first-degree murder conviction, ease the anxiety of the parents of the missing children, subdue the terror in British Columbia, and end an expensive police investigation. There was no hard evidence and Olson, an experienced criminal, was unlikely to talk without it. The day before Clifford Olson was charged with the death of Judy Kozma, he had a two-hour visit with his wife Joan and their infant son. "I could not stop crying during those two hours," wrote Olson in a letter February 5th, 1982, to Genevieve Westcott, a CBC television reporter in Vancouver, as to why he pleaded guilty.
"I told my wife that I was responsible for the deaths of the children and that I could not live with myself nor have any peace of mind until I confess to what I had done and give back the bodies to their families for a proper Christian burial.
"My wife told me that if I told police (R.C.M.P.) what I did, they would lock me up in jail for the rest of my life and I would in all probability be killed in jail. She said what would she tell our son when he grew up and everyone was teasing him at school for what his father had done. I told her it will be up to me to tell my son what has happened. I knew in my heart that I must give up my wife and son for the rest of my life. . My son will have to [sic] father to call Daddy and he will grow up knowing his father for the sins he has done. And my wife will always bear my mistake for the rest of her life. She told me that I must do what is right and that she will always love me and that someday we would be n [sic] heaven together praising the Lord together."
Olson may have been trying to bolster his own image because he also was heard to say: "If I gave a shit about the parents I wouldn't have killed the kid."
Olson's World
"We cant [sic] look into other serial killers minds as to what they do unless they allow to give there thoughts and views, You don't find many that have done this any place"
—C. Olson
Clifford Olson is a classic case of the extreme psychopath. The extreme "true" psychopath is a thrill seeker with pathological glibness, antisocial pursuit of power and lack of guilt. It conjures up images of Anthony Perkins or Anthony Hopkins in their portrayals of the extreme psychopaths in Psycho, The Silence of the Lambs and its sequel Hannibal.
Chief psychiatrist at Penetang's Mental Health Centre, Dr. Russell Fleming, explains the nature of the extreme psychopath in a Toronto Sun article: an individual with a severe antisocial personality disorder that leads to criminal behavior. Although he never interviewed Olson, he speculated as to why Olson maintained composure and radiates serenity:
"There's a core group of psychopaths, of whom Olson clearly seems one, who can be intriguing, charismatic, engaging, predictable and sinister, with the capacity to manipulate those around them." Recent studies indicate there may be a genetic component to psychopathy, a failure or `misfiring' of the brain. At any rate, their brains are certainly different; it's doubtful we'll ever fully understand the disorder."
Bottom line, the psychopath has deficient affective responses to people. Couple this with Olson's pedophilia and sadism, it is not surprising that he escalated to serial murder, of the most vulnerable kind of victim. The following examples of Olson's sadistic behavior further support the evidence of psychopathic behavior: he injected air bubbles into one victim's arms, missed the vein, and ended up battering the victim to death with his hammer; he drove a nail into one victim's head for no apparent reason since it was not the cause of death; he telephoned some of the victims' families playing back a tape recording of one of the victim's deaths, telephoned and wrote letters to others, relishing their pain; ran down one victim with his rental car; and, the violent treatment, control and manipulation of his wife.
In less than nine months Olson killed 11 times. There were also four other suspected murder victims for which he was not tried: Verna Bjerky, 17, was reported missing from Hope/Yale area and not located as of 7-30-81; Pamela Darlington, Kamloops, B.C.; Monica Jack, Quilchena, B.C.; Marney Jamieson, Gibsons, B.C.
The fact that he killed both girls and boys confused the investigation. In the 1980′s the phenomenon of serial killers was poorly understood. Police relied too heavily on their prior experience with pedophiles, assuming that cases were not linked because the victims were of different sexes and ages. Pedophiles that prey on prepubescent children usually have no gender preference, while those preying on older children focus on one gender or the other, not both. While patterns of criminal behavior, whether based upon the experience of the police or expert opinions from criminal profilers, are very useful in understanding the criminal mind and leading police to the right suspect, police departments need to "think outside the box." Because criminals do not feel confined to behave according to what other criminals have done in the past and what "experts" have profiled, police also must not constrain their investigations to these artificial limitations
Justice?
January 11- 14, 1982
Mugshot of Olson
"I don't have the words to describe the enormity of your crimes and the heartbreak and anguish you have caused so many people," declared Justice Harry McKay, Olson's trial judge. "No punishment a civilized country could give you could come close to being adequate….You should never be granted parole for the remainder of your day. It would be foolhardy to let you at large." (Canada abolished the death penalty in 1976)
The trial came to a quick conclusion on the third day when Olson changed his plea to "guilty" within only a few hours of the court proceedings. Speculation was that with the tapes of Olson talking in his high-pitched whine, it was obvious even to him that he was coming off as a weak individual and not very bright. In any case, this did not meet up to his own illusions of being the big, powerful, elusive serial killer that was portrayed in the media.
Crown Prosecutor John Hall told reporters of the Vancouver Sun that it was the "saddest and most bizarre" case he had ever seen. When asked about Olson's motives, he answered, "Who knows about these things? It's difficult to look into people's minds. He is insane in the broad sense but not in the legal sense. He is an inadequate psychopath. He could go to church and beat his breast and say, `I love my wife and I love my kid.'" But he can't. He may believe he has some real feeling but it's all surface. He doesn't have a conscience."
With Olson behind bars, the parents of the murdered children wrote to Federal Solicitor General Kaplan:
"We are suffering further injury at present from the knowledge that Clifford Olson has benefited financially from the murder of our children. This is further aggravated by the fact that Mr. Olson may benefit yet again through publication of his disgusting, wicked, perverted story. Clifford Olson derives obvious personal delight at the publicity that has been given him and knows no moral boundary that will prevent him from collecting financially, either directly or indirectly, for the sale of his memoirs."
Although the plea was backed up with some one hundred thousand signatures, it did not make a difference. The bureaucratic wheels turned a blind eye to the families' plight. The federal government even withheld family allowance checks, creating further hardship when the children were presumed missing.
Growing public support however bolstered the families. Roughly 60% of those surveyed, some 600 eligible voters chosen at random, agreed. After a long battle, unable to get satisfaction from the government, seven of the families decided to sue, naming Olson, his wife Joan, his lawyer Shantz, and McNeney, the lawyer looking after the cash deal. Two lawyers took the case, waiving their fees.
There was further outrage when on November 16, 1981, the RCMP secretly flew Olson back to B.C. which was arranged after Maile filed an affidavit in the B.C. Supreme Court that Olson would provide the whereabouts of more bodies. But he was escorted back to Kingston Pen empty-handed.
The fall of 1984
Finally after almost three years, while Joan Olson and lawyers forestalled the legal examination of their conduct, the Supreme Court of British Columbia examined the cash-for-bodies deal to make a decision about the $100,000.
No sympathy was shown to Joan Olson or to her baby. It was an ordeal for her and for her young son to be called names from horror movies "Rosemary's Baby" and "Demon Seed." When the jeering went on in the courtroom, Mr. Justice William Trainor of the B.C. Supreme Court chided the spectators..
At one point Joan stated emphatically, trembling all the while: "It floors me that anyone would think that I had anything to do with it. I cried, I cried a lot about it at first. I don't know how to explain it … I really don't think too much about them now. I'm glad the children are buried." She had nightmares about the ghost of Simon Partington begging for her help. Her life had been a living hell of alcoholic beatings and abuse: "Oh, I hate him," she said. "I hated him for the night he held a knife to my throat. He terrorized me, scared me, beat me. There was no one I could turn to."
However her feelings toward Olson were not all negative: "He's a real charmer. He has a way with words and I've yet to see a woman that hasn't been attracted to him. I don't know what it is really. I like to say it was his brown eyes, but it couldn't have been that."
Although Justice Trainor ruled that Shantz, McNeney and the Olsons had to return the $100,000 plus interest, and that they should pay the legal costs, on March 11, 1996, the B.C. Court of Appeal reversed Trainor's decision saying he had erred. A few months later, five and a half years after the first youngster was murdered, the Supreme Court of Canada refused to listen to the parents' appeal.
Joan and her child could keep the money. "I think that money was given to me in good faith," she once told the camera. "I don't have any guilty conscience. I can look at myself in the mirror and say, `You're a good person — don't be ashamed.'"
When asked how it was for her three-year-old son, she said: "It's really strange. He knows who his father is. He picked it up from the TV. I just can't believe it. I just explained it to him that his dad was a bad person and he has to spend the rest of his life in jail and that we are never going to see him and he accepted that. Whether he will later on — I don't know."
Epilogue
"We were like moths around a flame," said McNeney, referring to that sultry day in August when he danced with the devil.
August, 1997
Provincial Court of B.C. where
Olsons parole hearing was held
(Jan Bouchard-Kerr)
"What the jury has to decide about me is my character," said Olson, beginning his case, in the high security courtroom in Surrey. "Who is Clifford Olson? What has Clifford Olson done since he was sentenced?" He finished his rambling, at times contradictory, opening statement.
After Olson served 16 years, he applied under Section 745 of the Criminal Code, the faint-hope clause. The parents were grief stricken, having to engage in a pointless exercise of the hearing.
At 57, Olson appeared even slighter than in 1981, when he was 41 years old. Wearing a tattered red T-shirt, with his legs shackled, behind a bulletproof partition, Olson leaned over the rail of the prisoner's dock at times, for emphasis. Acting as his own attorney, he appealed to the six-man, six-woman jury hearing his bid for early parole, claiming that the had many unsolved crimes to confess, some murders that he committed alone, others with a friend. He said that they were involved in the unsolved string of Green River Murders. The Vancouver Province, a local newspaper, reported that the man in charge of the Green River investigation scoffed at such a claim, saying that he would have had to be a magician, able to tunnel his way from a prison somewhere in Canada and make his way to Seattle to have killed any of the women. According to Bruce Northrop, "Nothing he has said, or will say, can be believed unless it can be substantiated by independent means."
Olson's own character witness, Dr. Tony Marcus, a court-appointed psychiatrist, claimed that Olson is still as devious and animated as he was when he was convicted in 1982 and shows no signs of burnout. This actually makes him more dangerous, having spent most of his life in prison. Olson's second character witness said almost the same thing: that there was "no safe way" that Olson could ever be released, believing that he was virtually unchanged
Forensic psychiatrist Dr. Stanley Semrau called Olson "completely untreatable," more dangerous than in 1981 because he thoroughly enjoys celebrity status, trying to claim the title as ultimate serial killer. He told the jury that Olson is "addicted to murder" and is "the most extreme sexual deviant, the most disturbed, most pathological personality I have ever encountered."
"Ladies and gentlemen," said Olson in his summation to the jury, "you have seen me before you. Do I look like a raving lunatic?" Members of the jury remained calm, but the victims' family members laughed uproariously, and a resounding "Yeah!" was heard throughout the courtroom.
At the end of the trial, amidst the clapping and yelling, some standing up, Justice Richard Low of the B.C. Supreme Court terminated the proceedings, "We've all had enough of this nasty business—we'll adjourn." Olson was quickly becoming a paper tiger.
Although Olson had been sentenced to a minimum of 25 years without parole, he believed all along that he would make parole in 15 years. But, it took only 15 minutes for the jury to return a verdict rejecting Olson's bid for parole. His next opportunity will come in the year 2006. He is confined in a maximum-security institution in Quebec, probably until his death. Since his Section 745 hearing in 1997, he has not been allowed to harass the victims' families with phone calls and cards.
The last time Maile saw Olson he asked him: "What would you do if you got out, Cliff:"
Olson grinned, "I'd take up where I left off."
(article from Frances Famers Revenge):
It was top of the line for Clifford Robert Olson when it came to office stationery and business cards. When he ordered, he ordered nothing but the best; trouble is, he never paid for them. New Westminster printer Victor Goodmurphy was left with hundreds of costly souvenirs and the memory of a man who looked more like a Kingsway car-lot dealer than a multiple murderer. Goodmurphy remembers Olson as a fast-talker who could be both charming and smooth tongued when trying to impress people. he would dress in loud custom suits set off with blue and pink silk shirts and would smoke only top of the line cigars. Olson, claiming he owned a construction firm ordered envelopes and letter heads on the best quality watermark paper that goodmurphy had in stock. He also bought $156.00 worth of plastic laminated three-dimensional goldleaf business cards touting two construction firms, Hale and Olson Construction and Hale and Olson Enterprise Ltd. As $45.00 per hundered the total charge was $635.00. Olson offered to put a deposit on the order and brought out his wallet which was stuffed with hundred dollar bills. "I never took a deposit from him," said Goodmurphy, "he said he was going to Richmond and would pick the order up later." Goodmurphy's shop was only a few doors away from the New Westmiinster Manpower office where fifteen year old Raymond King Jr. was last seen the previous week. Two days later on July 30, 1981 Olson coerced 17 year old Louise Chartrand from Maple Ridge, British Columbia into accompanying him to Whistler Mountain. On August 27, 1981 the R.C.M.P. with the help of Olson, unearthed Chartrand's decomposed body which had evidence of massive skull fractures.
Olson was a braggart, a liar and a thief. He was not a violent man nor had he a temper. He would never back down from a challenge and he would always stick up for the underdog in just about any situation. Clifford Olson some say had a Jekyll and Hyde personality who posed as a happy family man and a devout church goer, but in reality no one could see the monster ready to be let loose once he started drinking.
In his fourty-two years of misspent life, Olson compiled a long list of crimes which kept him behind bars for the best part of nearly thirty years. To cap off his long record he exploded in one of the most shocking string of murders ever witnessed in Canadian history. Looking over his record one wonders why he was let out of jail so often for good behavior only to go straight back to crime. Why was his potential for murder not spotted during the many times he was interviewed by social workers, classification officers, medical officials and prison staff? Olson started as a petty thief and graduated from the Canadian prison system as a prolific killer.
One characteristic mentioned most by people who knew Olson was his compulsion to talk. He definitely had the gift to gab. His constant talking which he used most effectively usually got him his own way in most matters. One of the R.C.M.P. officers, Constable Jim Hunter of the Squamish detachment stated "I can well understand wy those kids got into a car with him, he really had the gift of the gab."
Olson received his first publicity the day he was born which was January the first 1940 at 10:10pm in St. Paul's Hospital to Clifford and Leona Olson. Young Clifford was not born early enough in the day to win the big prizes which consisted of a silver spoon and a case of canned milk but his parents were presented with a baby book and a dainty gift from Cunningham Drug Stores. At a later date Olson would rob from Cunningham's, the very store that presented him with the New Year's gifts. Olson was the first-born of a family which soon increased to give Clifford two brothers, Denis and Richard and a sister Sharon. In 1945 the family moved from Edmonton, Alberta to Richmond, British Columbia where Olson started elementary school. Olson senior with his growing family bought a small one-story house on 1029 Gilmore Crescent, in a 80 home community built by the government for its servicemen after World War II.
Growing up near the north arm of the Fraser River Olson quickly eared a repuation as a bit of a con artist, a trait that would stick with him for the rest of his life. According to the Cambie Junior High School, Olson left his studies in 1956 for six months to work at the Old Landsdown race track which today is a large shopping mall. While growing up in Richmond Olson boxed in his spare time and had some success at it. Olson quit school and at the young age of 17 entered another school for nine months, New Haven Borstal Correctional Cenre in Burnaby, for breaking and entering. Olson soon escaped from New Haven and stole a power boat from Richmond but he was soon recaptured and sent to Haney Correctional Centre. If someone at this point in Olson's life could have sent him down the right path and not to follow the path to prisonmaybe Olson could have ended up leading a different life. And maybe those eleven victims might not have ended up as Olson's victims.
While serving time at the Old B.C. Penitentiary for breaking and entering, Olson pulled a fast scam while working in the hospital. Olson put a little blood in his urinal which got him a trip to the hospital where he soon escaped custody. When he escaped this time his family were already giving up on him. During an interview with the local paper when Olson had escaped from Shaughnessy Hospital, they had appealed to him to give himself up. "He knows what he's facing, he might have to serve 10 years," said Olson Sr. who had just moved his family to a new home in Richmond. "If he doesn't give himself up, I hope they get him before he does somethign really bad. He's done bad enough now."
Mugshot of Clifford
Olson as a young
criminal
Looking back on Olson's long years spent in prison one notices that he was one inmate who was constantly brewing up a way to escape. In total Olson would escape 7 times, only to have more time tacked on his sentence. Olson's many years in prison were not all easy time, one time in particular he had to be put in protective custody for testifying against one Gary marcoux. Marcoux was a two time loser serving time on two rape charges when Olson testified against him on what he knew about the rape and murder of a nine year old girl named Jeanny Dove. Olson's testimony resulted in Marcoux receiving a lifew sentence for the murder of Jeanny Dove.
Olson, in spite of his many years in prison paid a sentimental visit to the Old B.C. Penitentiary when it was opened to the public for a last look before closing down in 1981. Unfortunately for Olson this one last look at one of his old homes cost him his freedom. Olson trooped into the 102 year old building with thousands of other sightseers for a prison tour, unaware there was a Canada-wide warrant out for his arrest. So when he peeked into the cell which had been his home for several years, he was recognized by one of his former guards and was quickly arrested by the New Westminster city police. Olson had last been in the B.C. Pen serving four years and nine months for a variety of offenses including theft, forgery and false pretences. His nostalgic return to the Old B.C. Pen cost Olson another month in the Matsqui before his sentence finally expired.
When Olson was once again free to walk the streets he headed immediately to his old stomping grounds, the outer municipalities of Richmond-Surrey. He rented an apartment at the New Surrey Village Apartments at 9835 King George Highway, only seven blocks from where one of his first victims, Christine Weller lived.
According to Gwen Meister, manager of the Surrey Village, Olson was then living with Joan Hale the woman he later married. Meister said Olson rented at the Surrey Village from August 1980 until the latter part of January 1981. Meister said he gave no notice when he vacated the suite and she later heard he was in jail, she was right. Olson was in custody from January 8th to May on a charge of rape that was brought against him by a Surrey prostitute. The charge was later stayed because the girl was not a reliable witness and she failed to appear in court. This was the first time Olson has ever been charged with a sex crime. When Olson was let out he immediately went looking for the girl who had brought the phoney rape charge against him; and if he had found her she would surely be dead today.
Olson married Joan Hale at the People's Gospel in Surrey on May 15, 1981 and shortly after Joan gave birth to their son. Olson often attended church and he was more than an erudite scholar, being extremely learned of the Bible. After Olson was released from Oakalla prison the couple left Surrey and moved to 675 Whiting Way in Coquitlam. This two storey building is also where Olson's lived and managed. 675 Whiting Way being an adult only apartment was soon without Clifford and Joan when the baby was born. They moved around the corner into a modest apartment at 521 Foster Ave to set up household. Debbie Campbell who lived with her two youngsters in the apartment under the Olson's said, "He was good with all the little kids in the complex, giving them candy and things, some of the kids had not many toys but Olson would bring all new toys to the kids she said." One time a girl from the area was missing and he offered to drive around looking for her. Olson was constantly hustling the girls in the neighbourhood but he didn't appear to do anything.
On August 12, 1981 Olson's murderous escapades were uncovered. Olson was arrested while driving a rented car near Port Alberni on Vancouver Island by the R.C.M.P. for an alleged driving offenses. He was taken to the mainland on August 14 and appeared in Burnaby provincial court on two counts of breaking and entering. The R.C.M.P. started intense interrogation of Olson about a string of unsolved murders in the area with which they suspected he was in some way involved. It culminated in the most shocking murder spree in Canadian history.
During nine months Olson killed at least 11 youngsters of both sexes ranging in age from 9 to 18. His killing spree not only stands as the most shocking in Canadian history but also as the most sorrowful one because of the number of victims involved and their ages. In one month alone, July 1981, six children were abducted, drugged and believed sexually used and then murdered in the most brutal way. Scores of interviews and hours of research have shown that the R.C.M.P. had Olson marked down as a suspect as a very early stage. According to one R.C.M.P. officer they had Olson as a murder suspect in the abduction of his first victim, twelve year old Christine Weller well before her body was even found.
Olson with his average intelligence was able to outwit the best brains of the famed Royal Canadian Mounted Police for the better part of nine months. He never received any Psychiatric treatment of any kind behind bars during his many stays in various prisons and the drastic deterioration of his personality never seemed to disturb any of the staff. This was because the hardened criminal became extremely adept at manipulating the prison system, and also because the prison system wasn't set up to change people like Olson. Prison was simply a place to house him until his sentence expired, whereupon he could be released onto the unsuspecting public. One just has to read what the honourable David Daubney M.P. chairman of The Standing Committee on justice with regards to the prisons in Canada. He found them a disgusting depressing school for crime instead of places of rehabilitation; our prisons are regarded as warehouses. A psychiatric assessment of Olson in prison would likely have saved the eleven lives he snuffed out between 1980 to 1981. The following is a list of Olson's victims including their profiles and causes of death.
Christine Weller – Twelve year old Christine was found murdered in Richmond on December 25, 1980. She was stabbed to death on November 19, 1980. Weller was driven to an area of Richmond where she was murdered by multiple stab wounds to the chest and abdomen. She suffered 10 stab wounds to the chest and abdomen and two superficial slashes in the neck. She had a double perforation of the right ventricle of the heart, and four penetrating wounds in the liver.
Colleen Daignault – Thirteen year old Daignault was murdered on April 15, 1981 in South Surrey near 144th Street and 26th Avenue. The deceased was picked up in Surrey and driven to a remote area of South Surrey where she was attacked and murdered by repeated hammer blows to the head. Actual cause of death was two depressed fractures of the occipital region of the skull.
Daryn Johnsrude – Johnsrude was sixteen when he was murdered on April 21, 1981 in Deroche. The deceased waspicked up in New Westminster and driven to the Deroche where he was murdered by repeated hammer blows to the head. Cause of death was comminuted skull fracture with right subdural haemorrhage left haemothorax.
Sandra Lynn Wolfsteiner – Sixteen year old Wolfsteiner was murdered May 19, 1981 in the Chilliwack Lake area. The deceased was picked up at the bos stop in Surrey and driven to a remote area on the Chilliwack Lake Road where she was murdered by repeated hammer blows to the head. Few skeletal remains were found and cause of death was determined to be head injuries.
Ada Anita Court – Ada was thirteen years old when she was murdered on June 21, 1981 at Weaver Lake Road. The deceased was picked up while walking on North Road in Coquitlam and driven to a remote area near Weaver Lake where she was murdered by repeated hammer blows to the head. Skeletal remains with several depressed skull fractures were found.
Simon Patrick James Partington – Partington was nine years old when he was murdered on July 2nd, 1981 on River Road-Nelson Avenue in Richmond. The deceased was picked up two blocks fromhis home in Surrey and given a ride. During the course of the ride he was taken to a remote area of Richmond, given a couple bottles of beer and then strangled.
July Kozma – Kozma was fourteen when she was murdered on July 9th, 1981 near Weaver Lake. The deceased was picked up in New Westminster and driven to a remote area near Weaver Lake where she was murdered by multiple stab wounds.
Raymond Lawrence King Jr. – King was fifteen when he was murdered on July 23, 1981 near Weaver Lake. The deceased was picked up at the bus depot after leaving the manpower office in New Westminster and driven to a remote area near Weaver Lake. He was thrown down an embankment and murdered while unconscious by rock blows to the head.
Sigrun Charlotte Elisabeth Arnd – Arnd was eighteen when she was murdered on July 24, 1981 at a remote area North of River Road in Richmond. The deceased was picked up in Coquitlam and driven to a remote area of Richmond where she was murdered by repeated hammer blows to the head and then thrown into a ditch with water to be buried. The cause of death was massive head injuries.
Terry Lyn Carson – Carson was fifteen when she was murdered on July 27, 1981 in a remote area east of Chilliwack. The deceased was picked up on 108th Avenue bus stop and driven to a remote area past Chilliwack where she was murdered by strangulation.
Louise Simonne Marie Evelyn Chartrand – Chartrand was seventeen when she was murdered on July 30, 1981 near Whistler B.C. The deceased was picked up walking to work in Maple Ridge B.C. and driven to the Whistler area where she was murdered by repeated hammer blows to the head. Her decomposed body was found with evidence of massive skull fractures.
The above facts show Olson preyed on the very young by gaining their friendship and then taking them to a remote part of B.C. where he murdered them by either strangulation, stabbing or bashing their heads open with a hammer.
Olson's crime sprees lasted from November 1980 to August 1981 until he was arrested in Ucluelet in the Vancouver Island area with two female hitch-hikers in his car. He was at the time under surveillance and arrested when it was thought the two female hitchhikers were in danger. In Olson's car at the time of his arrest was found a notebook with Judy Kozmas' name in it. He was held without bail in Burnaby on two charges of burglary, which he had committed while under surveillance by the R.C.M.P. between August 6th and the 12th, 1981. Later Olson was charged with eleven counts of first degree murder to which he pled guilty. The recovery of the bodies from such remote and isolated areas would have been virtually impossible without the active free cooperation of Olson. The means used by the R.C.M.P. to gain the cooperation of Olson in recovering the eleven bodies was a cash for corpse deal whereby $100,000.00 was paid to a trust fund for the benefit of Olson's wife and son. Olson's Modus Operandi in all eleven murders was to entice the victims into his car with the spurious offer of work at ten dollars an hour, and included the use of alcohol and a drug called chloral hydrate which when mixed confused and overcame his victims.
Submitted with this profile is an affidavit of Robert D. Shantz, Olson's lawyer of what took place on or about the 16th day of August, 1981 in a telephone conversation with Inspector Larry Proke, O/C of the Serious Crime Section of the R.C.M.P. with regards to a deal whereby the R.C.M.P. was prepared to pay $100,000.00 for the recovery of the childrens bodies. The copies of the original trust deed for the $100,000.00 is also attached with letters dated February 5th, 1982 addressed to the then Honourable Robert Kaplan, M.P. Solicitor General of Canada and also the same letter dated February 5th, 1982 to the then Honourable Alan William, M.L.A. The Attorney General of British Columbia.
Locked up with Olson in that great limestone prison in Kingston are a whole series of unanswered questions. How many other children had Olson drugged and murdered? Is Olson keeping quiet about these other murders to use at a later date as a bargaining tool? Would Olson have shown the R.C.M.P. where more bodies were buried if they had been allowed to offer him more money? Both the Mounties and B.C. Attorney-General Williams admitted that Olson came up with another cash for bidies deal in the fall of 1981. The Mounties said the offer was rejected because they were acting under a policy directive from the attorney general, not to have any further cash talks with Olson. When assistant R.C.M.P. Commissioner Don Wilson was asked by the Vancouver Sun whether he believed Olson could provide them with more bodies, "the short answer is yes." said Wilson. They, the R.C.M.P., had factual evidence upon which such a matter could be considered. Did Olson kill more kids? The R.C.M.P. believe that Olson is responsible or has information on several of the Highway Murders, a gruesome series of unsolved sex slayings in British Columbia's Interior and and Alberta Rockies.
A young woman named Pamela in fact was listed amongst the victims of the Highway Murders. Her full name was Pamela Lorraine Darlington and her stripped, raped and sexually mutilated body was found floating face down November 1973 in the Thompson River at Kamloops, British Columbia. At least 14 young women were murdered between 1972 and 1981 on the Trans-Canada Yellowhead or roads feeding into these main highways over the beautiful Canadian Rockies. The body of a 15th victim, Monica Jack, a twelve year old Indian girl who was bicycling home on a country road when she went missing, was never found. All these women were fresh-faced, innocent looking girls with young petite bodies that appealed to Olson. Many were sexually used and all were hitch-hiking.
The R.C.M.P. believe that Olson has the knowledge of 17 women and 6 young girls who were murdered in between the highway of Kamloops and Banff. The R.C.M.P. believe they were all murdered while hitch-hiking. There were other murders, not included inthe Highway Murders which the R.C.m.P. believe bore the clear imprint of an Olson killing. The body of one of these girls, 17 year old Verna Bjerky from the tiny Fraser Canyon community of Yale, B.C. was never found. Verna was working the night-shift as a waitress at the Godfater, a steak and pizza restaurant in Hope, B.C. when she went missing. Yale is about 15 miles from Hope and Verna, who didn't have a car, often got off work very late. So instead of waking up her family when she came home she frequently stayed at a friends house. Verna disappeared on May 2, 1981 while hitch-hiking from Hope. Yale, being a close-knit community, Verna's mother and father were able to mount a massive community search.
On October 9, 1981 more than five months after Verna went missing, soem personal articles of Verna's were found in what police call an area of mountain, bust and river beside Highway 7, just three miles weast of Hope B.C. where Clifford liked to take many of his victims along this same highway before turning off into the bush and murdering them. Superintendent Larry Poke of R.C.M.P. believed the killing of Verna had all the trademarks of an Olson murder – a young attractive girl, hitch-hiking in one of Olson's favorite stopping off points, and it was just Olson's style to scatter his victim's personal effects in remote bush to confuse investigators.
Another slaying which the R.C.M.P. said had the stamp of Olson was that of Mary Ellen Jamieson who disappeared on August 7th, 1980 on the beautiful Sunshine Coast just north of Vancouver city. The pretty, blue eyed, blonde was last seen hitch-hiking on Highway 101 at Davis Bay on Vancouver Island. Mary was on her way home after having dinner with her boyfriend, 18 year old Adrian Dixon in Sechelt. She was hitch-hiking because there was no bus service and her only alternative would be a $15.00 cab fare or ride with family or friends. Her family knew something was terribly wrong when she did not return home by 11p.m. Her body was found nine days later by three family friends off a logging road near the bay, about 12 miles from her home. R.C.M.P. and searchers had been down the road before and there was nothing that could be seen from a car. But a 17 year old named Todd Redman had a feeling this was the spot. They stopped the car and he grabbed a shovel and started digging in the gravel alongside the road. Even though there were no signs that the ground had been disturbed, the youth was convinced that Marney was there. She was lying fully clothed with bruise marks around her neck where she had been strangled. Clifford Olson knew the Vancouver area like the back of his hand and threeof his known victims had been strangled. He also liked to leave his victims like Marney on backroads.
The horror never really ended for the parents of the eleven kids Olson murdered. They suffered through the anguish of waiting for their children to return and living with the truth that they never would. Most of the victims came from broken families where the parents had already been through ugly divorce proceedings or painful separations. The parents called for a full public inquiry and voiced their concerns to both the ex-Attorney General Allan Williams and to the British Columbia Chief Coroner Robert Galbraith. The parents said the R.C.M.P. was covering up and the facts as presently known raise so many questions, yet unanswered, that the parents feel can only be ascertained through a public inquest. Only through a public inquiry into the circumstances surrounding the nororious childrens deaths can recommendations be made to the police and others to try and prevent a similar even from ever happening in British Columbia. On June 4th, 1982 Coroner Alan Askey released his report on the murder of the eleven children. Despite a probe of more than three months, Askey appeared to do little more than simply reproduce the official R.C.M.P. version of events.
At first the families seemed stunned. But when they read more carefully the greater was their sense of betrayal. The families felt that everyone from the Federal Solicitor General Robert Kaplan to the then Attorney General Allan Williams to Coroner Askey himself was engaged in a coverup. Askey was billed as a tough and very outspoken veteran of the coroners service for the province of British Columbia. But his eight page Olson report was far from hard hitting. The parents called it whitewash. The parents charged that Askey gave the famed R.C.M.P. only a token slap on the wrist. Marguerite Partington, the mother of Olson's youngest victim said "There is no justice." For Brigitte Kozma, elder sister of murder victim Judy Kozma, she said "The only real justice would be the eye-for-an-eye of the Old Testament.
The families believe that the R.C.M.P. acted in a totally incompetent fashion throughout the whole investigation. As for the Askey investigation it was clear that it started out as on thing and ended up as quite another. Both Chief Coroner Galbraith and Askey promised that there would be an examination on whether any of the murders could have been prevented. It turned out the report virtually ignored what went wrong. It only talked about how to prevent furture murders and how to set things right in the future. The report said the cash for corpses deal was justified, but it failed to say why, other than, "The recovery of the bodies from such isolated and hidden locations would have been virtually impossible without the active cooperation of Clifford Olson, and the means used to gain cooperation were justified."
ive days before the release of the Askey report the victims families embarked on a press offensive. They realized they were not going to get satisfaction from the authorities without marshalling public support. They announced they would soon be starting legal action to retrieve the $100,000.00 bloodmoney from the trust fund set up as part of the R.C.M.P. cash for corpses deal with Olson. They demanded the resignation of Allan Williams and they planned to sue him along with Olson, his wife Joan and Jim McNeney, trustee of the fund and also Robert Shantz. They charged that Williams had offered but failed to provide free legal advice and had ignored their letters about their childrens deaths. The eight families also took legal action against Olson in the British Columbia Supreme Court.
In a writ filed April 19th, 1982 they sued Olson for damages in a seldom used provision of B.C.'s Family Compensation Act. The applications were heard on Thursday the 24th of March, 1983 before the Honourable Mr. Justice Paris of the B.C. Supreme Court. The court ordered the judgement be entered in default of the defence by Olson with damages to be assessed and also cost to be taxed. Too late, the families won but could not obtain any money because Olson had no money and didn't have any control over the trust fun, it existed completely independent of Olson. "Olson has never had, does not have, and will never have any direction over the trust fund" said Jim McNeney acting as trustee for the fund.
In the writ filed against Olson it turned out that Olson was prevented by the then Warden Andrew Graham of the Kingston Penitentiary from allowing Olson to use his personal money to file and mail documents to the B.C. Supreme Court in defence of the eight writs filed April 19th, 1982 against Olson by the eight families. After nine years Olson has now filed a federal court action in the city of Ottawa on February 20th, 1989 against the Correctional Service of Canada under the Canadian Charter of Freedoms, claiming they infringed or denied him his rights under a number of sections of the charter. Olson is claiming that the Correctional Service of Canada be ordered to pay the full amount of money that was ordered to be paid by Olson for the default judgements handed down by Justice Paris. This money would then be paid into the court to pay the parents that brought the legal action against Olson in the B.C. Supreme Court filed April 19th, 1982.
There were six families that were awarded the default judgement as two families withdrew their actions. The victims' parents awarded are Mr. and Mrs. Court damages of $20,685.45; Mr. and Mrs. Wolfsteiner damages of $13,944.45; Mr. and Mrs. Kozma damages of $13,537.46; Mr. and Mrs. Rosenfeldt damages of $14, 074.94; Mr. King damages of $24,293.13; and Mr. and Mrs. Partington damages of $13,738.87. The total amount of money claimed by Olson against the Correctional Service of Canada is $100,274.30. It should be pointed out that the six parents of Olsons victims that were awarded this money soon found out they could not collect from Olson because he had no money. They then filed another civil law suit against E.J. McNeney, Robert Shantz, and Joan and Clifford Olson. Mr. Justice Trainor of the B.C. Supreme Court pronounced judgement on December 7, 1984 in favor of the victims families. The judgement was as follows; "The fund (which came into existence on the 26th day of August, 1981) must be surrendered or delivered up to this court. By operation of law, it was, that day, impressed with a constructive trust to remove it from the wrongdoer and those collaborating with him. The defendants are accountable for the entire sum of $100,000.00 paid to McNeney by the R.C.M.P. and are liable for it.
If equitable tracing is necessary it would be an appropriate tool to assist in the collection process. I would not think Morrison would hesitate to return the money under his control to McNeney so that the latter could comply with this order. The reasons underlying the establishment of the fund were that it would likely result in the conviction of a mass murder, Olson, that it would bring to a conclusion a lengthy and expensive investigation, that there would be a lessening of public anxiety and that the finality would bring some solace to the parents of the murdered children. That describes the character of this fund and directs its future use. In equity, the parents of the children murdered by Clifford Olson must have a right to claim". The parents were happy that they won the case against Olson, but there were further unforseen court actions being taken to the local B.C. Court of Appeal by the defendants Joan Olson, E.J. McNeney, Robert Shantz and Clifford Olson. They appealed the Supreme Court of B.C.'s Justice Trainor. The B.C. Court of Appeal heard the case on March 11, 1986 and the court was fast in their reasons for judgement, the Honourable Justice Hinkson speaking for the Court of Appeal. In an eight page judgement the final outcome was that the judge fell in error in the way he dealt with the number of requirements to be satisfied before the principle of unjust enrichment would apply. In meeting that requirement, the families must show that they were deprived when the funds were paid to McNeney. The appeal Court went on to say on page 8, it is clear on the face of this case that the payment by the R.C.M.P. to McNeney was not made as compensation for the deaths of the children. As I have indicated it was authorized by the Attorney General primarily to obtain evidence to convict Olson of the murders of the children. The payment to McNeney did not result in any corresponding deprivation of the plaintiffs. Understood in this way it is clear that the plaintiffs have no claim to have the $100,000.00 restored to them. They had no right to claim the money from the R.C.M.P. and when that sum was paid to McNeney in trust they did not thereby become entitled to claim it upon the basis of unjust enrichment. For these reasons I would allow the appeal and dismiss the claims of the plaintiffs (families).
The money was returned from the court to McNeney but a further devastating judgement was yet coming to the parents of Olson's victims. They filed a motion for leave of appeal from the judgement of the Court of Appeal of B.C. dated March 12, 1986, this appeal motion was before the Supreme Court of Canada, the highest court in Canada. On June 23, 1986 the judgment was upheld. The court was quick to act, they delivered the final say on the $100,000.00 trust fund agreement. They dismissed the appeal of the families for leave to appeal the B.C. Court of Appeal Judgment. It may be asked of Olson what he thought of the court decision not to hear the parents appeal. Clifford Olson agrees with them fully.
Other murder Olson has knowledge of include the Green River Murders in the U.S. Olson has been given immunity from prosecution in Washington State in return for him offering to reveal the whereabouts of five bodies that were sexually raped then murdered. The U.S. authorities and the R.C.M.P. also know Olson can provide them with details of 23 more bodies in six U.S. states (Flordia, Louisiana, Oregon, California, Illinois, and New York). Olson claims he was on vacation in each of these states while on parole from the B.C. Penitentiary. This unprecedented immunity deal with Washington State Justice authorites was confirmed by Olson's trial lawyer Robert Shantz and the letter dated April 18, 1984 from lawyer Roonald Kessler attorney at law in Seattle, Washington. That letter is attached to this profile.
Olson didn't confess to the murders his lawyer stated, all he said was that he had information on the whereabouts of five murdered bodies in return for transactional immunity. Robert Shantz said Olson felt that such immnity was necessary because if he was ever extradited to face trial in the U.S. the convicted Olson could face possible execution. "Murderers can be hanged in Washington State and they have the sizzle chair down in Florida" Olson notes. Can Olson produce these bodies like he claims? Very high ranking officials believe he can, as seen by the letter of Robert Keppel, Chief Criminal Investigator of the Attorney Generals Office of the Seattle Criminal Division regarding to the Seattle Green River Murders.
An affidavit sworn and dated the 15th day of November 1988 is evidence of Olson's knowledge of murders in the U.S. and above all his knowledge of the identity of the Green River Murderer. A letter dated April 21, 1988 addressed to the Honourable Victor Atiyeh, Governor of Oregon with the attached affidavit dated April 10, 1984 seems to prove Olson does have the information he claims. Olson will not discuss the U.S. Green River killer or the murders unless he gets the deal he had tried to put together with different ambassadors evidenced by the enclosed letters to ambassadors to Switzerland and the Federal Republic of Germany. Special attention must be given to the report dated July 25, 1986 with regards to other murders Olson has knowledge of here in Canada. Unfortunately Canadian Prime Minister Brian Mulroney is backing away from any deal with Olson for political reasons. The Prime Minister thinks with regards to Olson that it is better to let people be killed or raped than make a deal with him.
Then Attorney General of Alberta the Honourable Neil Crawford received a letterdated March 25, 1983 from Olson claiming he had information pertaining to three young girls that were raped and murdered and that one of their bodies had already been recovered. Olson also sent letters to Peter Lougheed the Premier of the province of Alberta dated April 5th, 1983 concerning the three murder victims. Olson also swore an affidavit on June 29, 1983 stating that he had knowledge of the three murder victims. On instruction from the Attorney Generals office of Alberta, Corporal G.A. Gary Forbes, R.C.M.P. officer of the general investigation section of Edmonton visited Kingston Penitentiary to see Olson. Statements were written on April 14th, 1983and signed by Olson and G.A. Forbes of the R.C.M.P. pertaining to the three murdered girls. These statements cannont be made public by Olson because of the R.C.M.P.'s ongoing investigation in this matter. It can be noted, however, that one of the victims was Oahn Ngoc Ha a 19 years old Vietnamese who was then employed at the Baniff Hotel where Olson stayed.
Olson was to appear in the Vancouver City Court on a couple of charges in 1977 but as he was on parole he skipped court and left the night before for Alberta, leaving from the Vancouver Greyhound bus station with his girlfriend Evelyn. On February 28th the body of 19 year old Oahn Ngoc Ha was found on the Trans Canada Highway about 53 kilometres west of Golden B.C.
In the summer of 1978 on August 12th, 21 year old Deborah Silverman who lived in the apartment block building on Bathhurst Street in Toronto went missing. Her car was parked in the northwest corner of the lot behind the apartment block and her purse, lace trimmed panties and a broken gold necklace were found inside the back door. On Sunday Novermber 12th, 1978 her body was found in a lot on a farm at an intersection of Highway 7 at Durham Regional Road 13 in the Brock Township about 42 miles east of York. Her hands were tied behind her back with the sleeves of her blue and white shirt and her black halter top was around her neck. Her brassiere was still on but she had no shoes or underpanties on. Olson informed various people on his knowledge of Silverman's murder. He notified then Premier William Davis of Ontario by letter, Robert Rae, MPP of the N.D.P. Party of Ontario by letter dated May 9th, 1983 and David Peterson M.P.P. Liberal Leader of Ontario by letter dated May 4th, 1983. ON August 9th, 1982 Olson swore an affidavit with photos taken at the murder farm grave along with photos of Silverman being buried. In the following years up to 1988 a number of police officers interviewed Olson in Kingston Penitentiary on the Silverman case. On January 9th, 1987 in a letter to the Honourable Ian Scott, Attorney General of Ontario, Olson requested immunity from prosecution for the murder of Silverman. Olson says he was present and can name the killer and give photos. On December 9th, 1987 two detectives interviewed Olson regarding the letter he sent to Ian Scott and informed him there would be no deal. Olson now refuses to talk to any of them.
In 1988 Olson requested access to personal information under the Ontario Freedom of Information and Protection of Privacy Act 1987. Olson accessed four seperate departmens obtaining all the information held on him. Access was also granted to alld epartments with regards to all information held on Deborah Silverman. Olson will not identify the killer of Deborah Silverman because there is no deal which will benefit him.
A profile of a serial killer can only be written by the serial killer himself. He must be truthful with himself first, and then with the facts he writes about. In my own case, I will only try to make a short profile, a profile of myself. I have not gone into the reasons why I had pleaded guilty to the murder of the eleven children in British Columbia in 1980 and 1981 and I don't feel I have to; I will save that for a mroe trained individualin those particular fields. The purpose of this profile is to be no more than a short introduction ofmyself. I have taken the reader step by step through each and ever case as to what happened in each murder. I used what took place during the murders and what was said between the children and myself. I tried to tell the facts as I recall them and have added nothing of fiction to enhance them. I also had the foresight to tape all the interviews in 1981 and 1982 with the three top psychiatrists of Vancouver, Calgary and Toronto. These tapes are for my personal use and are only avialable to myself and my lawyer Robert Shantz for my own writing and for study purposes for Criminology students.
I have been currently conducting research and analyzing the lives and crimes of over 150 serial killers. I believe that there has never been an academic, university lever text book that analyzes the lives and crimes of serial killers in the United States, Canada or any other country. In my own personal study I hope people will be able to get a clear understanding on violent behaviour. Each serial killer has their own reasons as to why they murdered, but the reasons that led to the killing are not to be compared with each other as would be done in other fields of study. Once the facts are seen and provided by the killer himself, will we then be able to fully understand why they kill.
I can only speak as to why I murdered as I did. I can only put my thoughts and reasons as to the whole matter to be looked at by the professional psychiatrist and by criminologists and other trained people. In my case I hope that I may be able to shed light on the workings of a serial killer. One must remember and ask themselves, like I did, why is there no material written by the serial killer himself. The reason is simple, no serial killer wants to give up that much of himself and in most cases they have appeals proceeding though th court system which they don't want to jeopardize. Even when they are given a death sentence they will not talk about the murders because of a future chance of parole. I have never in my life read a book written by a serial killer on his own exploits. All kinds of people write about various serial killers but they can never write what the serial killer knows.
In reading this short profile on myself I wish to inform the reader that not even our famed Royal Canadian Mounted Police know what happened to those eleven children in terms of how they were murdered. Only my lawyer and I know. Only one important aspect must be brought out and that is to do with the $100,000.00 trust fund I agreed to have set up. There was no deal that made me exchange the childrens bodies for the money that was agreed on. I would never have made the deal that I did had it not been for Joan. Joan had received 28 thousand dollars from her divorce settlement and I took it and spent it. I was just taking her for a ride, as we say. Also I would not have told about the bodies and pleaded guilty if I had not fallen in love with Joan and stole her money like I did. I would be free today as is said by the Crown John Hall, my lawyer Allan Williams, former Attorney General of British Columbia.
The reasons I'm serving a life sentence is because I pleaded guilty to the charges. Had the R.C.M.P. not known I stole the money from Joan as I did, I wouldn't have mentioned the deal to get Joan's money back. Joan never knew or had any idea of the trust fund that had been put together. had she known of the deal she would have never agreed to it. In closing my profile I stand by my letter of Friday, February 5th, 1982 which I wrote to Genevieve Westcott a CBC television reporter in Vancouver as to why I pleaded guilty. This letter ran on national television and the text ran full in both the Vancouver Sun and Province newspapers as follows.
Friday, February 5th, 1982
Lower Mainland Correctional Institution,
Burnaby, B.C.
Dear Ms. Westcott:
CBC Reporter T.V. News.
Thanks you for your letter of February 2nd, 1982 that was brought in by my wife Joan on Wednesday on her visit with me. I don't give any interviews nor make any statements Genevieve, because the so-called professinal journalism reports can't put true facts together and print them as they should. I have such a volume of letters from all over the States and Canada wanting me to answer questions. I would expect of the media unequivocal, clear, chronological and unbiased reporting of true facts. Not the extreme degree of shallow, sensational, confused and biased reporting sadly typical of the new media, T.V., radio and newspapers that have been doing in my case. I am sure you Genevieve and all the true facts and trying to receive satisfactory explanations from all those involved. "I did not cause the unlawful deaths of eleven children by planned and deliberate killings." I had instructed my counsel, Robert Shantz, to ask special prosecutor John Hall if he would sign a letter starting that for my exchange of a plea of guilty, that he John Hall would not submit any evidence but the statement of facts, this Mr. Hall did, for the following reasons.
(1) I did not wish to put the parents of all the children to have to go through such emotional and physical strain and having to look at the photos of the remains and the state of their children's bodies were found.
(2) The mental and physical strain on my family and the families of the children would be extremely unbearable had I let the trial continue.
(3) The personal statements given to the R.C.M.P. by the parents of their lives would have been brought out and would have cause sor some embarrassment and disconcertion among some of the parents.
(4) The Justice McKay had the jury locked up so that they would not be able to communicate physically or by phone with their loved ones, wives, husbands, and children. This would have been for well over eight weeks.
(5) The complete exploration of the news media on all the victims families and my family and on the courts evidence would be exploited by the media for sensationalism.
(6) The whole cost of the trials and the enw trials that would be ordered by the various courts of appeal are unbelievable.
There are no words in the English language nor any other language that can express to the parents of my victims my deep emotional and sorrowful feelings of remorse I have for taking what are more precious to them, theif chilren. I know it is hard to do but I ask for forgiveness, I am terribly sorry for what I have done. What is not known is that the day before I was charged with the death of Judy Kozma, I had a two hour visit with my beloved wife Joan and my infant son Stephen. I could not stop crying during those two hours. I told my wife that I was responsible for the deaths of the children and that I could not live with myself nor have any peace of mind until I confess to what I had done and give back the bodies to their families for a proper Christian burial. I had first asked the Lord Jesus Christ to forgive me my sins, which he did (If we confess our sins, he (God) is faithful and just to forgive us our sins, and to cleanse us from all unrighteousness, (1 John 1:9).
My wife told me that if I told police (R.C.M.P.) what I did, they would lock me up in jail for the rest of my life and I would in all probability be killed in jail. She said what would she tell our son when he grew up and everyone was teasing him at school for what his father had done. I told her it will be up to me to tell my son what has happened. I knew in my heart that I must give up my wife and son for the rest ofmy life. My son will have to father to call Daddy and he will grow up knowing his father for the sins he has done. And my wife will always bear my mistake for the rest of her life. She told me that I must do what is right and that she will always love me and that someday we would be n heaven together praising the Lord together.
As to your professional integrity as a journalist, and to your fairness Genevieve, I nor Joan can make any comment on. But I'm willing and capable of accepting your word. You may read this letter on C.B.C. T.V. Genevieve on my behalf, only on the condition that you do not take one word or sentence of the content out of the letter in printing or publication or reading it on radio or T.V.
Yours Truly,
Clifford Robert Olson
The Olson profile is a personal profile, it contains two inches of documents that have never been released to the public nor any of the police forces in Canada nor the U.S. The letters are from a vast number of police organizations both in Canada and the U.S. There are vast amounts of legal documents that have been accessed under the Canadian Privact Act and there is a large number of letters to the present Federal members of Parliament, the Prime Minsiter of Canada and Ambassadors from 17 countries. There are the Coroner's reports on inquiries into the murders of the eleven children. There are reports from the correctional service Canada containing confidential information with regards to an attempt to force a political confrontation if Mr. Mulroney refuses to deal with Olson. See reports dated 86-07-28. There are the Canadian security intelligence services letters and the letter dated 03-15-88 from then Lt. Dan J. Nolan Operations Commander of the Green River Task Force in Seattle Washington which by letter of April 18, 1984 from Ronald Kessler on Olson being granted conditional immunity from prosecution by the Attorney General of Washington State in regards to numerous homcides in Washington State.
The two affidavits of Lawyers Robert Shantz and James McNeney are to be paid very special attention to. The two-inch file shold be read in complete conjunction with the profile. One can go on and on in this matter but the reader must remember that this is only a short profile of me. This is only a short insight as to who Clifford Olson is. I have not gone into what I'vebeen doing here since I came to the Kingston Penitentiary in February of 1982. In a short summation of my profile one must remember that it is my story, written by me alone.
Name: Clifford Robert Olson
Height: 5'7″
Astrological Sign: Capricorn
Weight: 159 pounds
Religion: Roman Catholic
Birthdate: January 1st, 1940
Birthplace: St. Paul's Hospital, Vancouver, V.C. at 10:10pm
Turn-on's: Being with someone I love, Jesus Christ, music, sexy women, champagne, sports, reading, philosophizing, writing, poetry, drawing, studying, learning law, being able to preach the message of God, having faith, hope and love, talking politics.
Turn-off's: Being hurt by people you love, lies and deceitfulness, swearing, obnoxious people, drugs, procrastination, people who are proud, selfish and rude, injustice, grudges.
Favorite Color: Red
Favorite Flower: Rose
Favorite Sports: Boxing, track and field, skiing, softball, hockey, swimming, skating, horse racing, tennis and soccer.
Favorite Games: Chess and bridge
Hobbies: Writing, poetry, drawing, model air-planes, reading, watching movies, going to the beach and writing personal reflections and essays.
Favorite Movies: American Graffiti, Doctor Zhivago, Jaws, Star Wars, The Empire Strikes Back, The Exorcist, Close Encounters of the Third Kind, Star Trek, High Noon, Stalag 17, On the Waterfront, The Bridge on the River Kwai, I Want to Live, Ben-Hur, West Side Story, To Kill a Mockingbird, Airport, The French Connection, Kramer vs. Kramer, Chariots of Fire, Places in the Heart, The Killing Fields.
Favorite T.V. Programs: Highway to Heaven, The Cosby Show, Family Ties, 60 Minutes, Johnny Carson, Ed Sullivan, Super Bowl, Bob Hope, Dallas, ABC Sunday Night Movies, NHL Hockey, Deauty and the Beast, Smothers Brothers, National Journal, Equalizer, Austin City Limits, Mystery, Disney Movies.
Favorite Magazines: National Geographic, Sports Illustrated, Time, Playboy, Club International, Life.
Favorite Records: Me and Bobby McGee/Janis Joplin, The Great Pretender/ The Platters, Chantilly Lace/ The Big Bopper, Johnny B. Goode/Chuck Berry, Green Onions/ Booker T. and the MG's, Proud Mary and all other Creedence Clearwater Revival songs, Blueberry Hill/Fats Domino, Like a Rolling Stone/ and most other Bob Dylan Songs, Wake Up Little Suzie/ Everly Brothers, Rock Around the Clock/ Bill Haley and the Comets, That'll Be the Day/ Buddy Holly and the Crickets, Stairway to Heaven/Led Zeppelin. Oh Pretty Woman/Roy Orbison, Stagger Lee/Lloyd Price, Satisfaction/ The Rolling Stones, Bridge Over Trouble Water/ Simon and Garfunkel, Your So Vain/Carley Simon, Maggie Mae/Rod Stewar, Be-Bob-A-Lula/Gene Vincent, Heart of Gold/Neil Young, Don't Be Cruel/and a few other Elvis songs.
Favorite Male Actors: Charles Broonson, Jack Palance, Donald Sutherland, Lee Marvin, Stacy Keach, Sean Connery, Clint Eastwood, Lee Majors, James Corburn, Marlon Brando, Chuck Norris, David Carradine, Arnold Schwarzenegger.
Favorite Female Actors: Suzanne Sommers, Pia Zadora, Heather Locklear, Angie Dickinson, Goldie Hawn, Sissy Spacek, Yvette Mimieux, Kim Basinger, Cheryl Tiegs, Cheryl Ladd, Cher, Sandra Dee, Brigitte Bardot, Tina Turner, Farrah Fawcett, Lindsay Wagner.
Favorite Comedy Actors: Shari Lewis and Lamb Chop, Rich Little, Buddy Hackett, Jay Leno, Gary Shandling, Johnny Carson, Billy Cosby.
Favorite Cars: Porsche-928-S, Cadillac, Oldsmobile, Ford Mustang.
Favorite Basketball Team: Boston Celtics
Favorite National League Team: Los Angeles Dodgers
Favorite American League Team: California
Favorite Fruits: Bing cherries, bananas, strawberries, cantaloupe, peaches, blueberries, grapes.
Favorite Candies: Fudge, toffee, Crispy Crunch bars, pop corn.
Favorite Desserts: Banana cream pie, ice-cream, milk shakes, oatmeal cookies.
Favorite Sandwich: Lettuce and tomato, club house.
Favorite Breakfasts: Bacon and eggs turned over, cream of wheat, puff wheat.
Favorite Fish: Alaska black cod, salmon.
Favorite Foods: Filet mignon steak medium, pork chops, meat loaf, corn on the cob, cottage cheese, peas, I like all vegetables except asparagus and spinach, chocolate milk, coffee with cream and sugar.
Favorite Miscellaneous: Cream of corn soup, coca cola, jelly beans, candies of all kinds.
Favorite Drink: Dom Perigon, Chivas Regal Blended Scotch Whiskey with Seven-Up, Screwdrivers with Smirnoff Vodka, my favorite cocktails are, Singapore Slink: Gin, Lemon Juice, Orange Juice, Cherry Brandy, Grenadine. Marguerita: Salted rim, tequila, triple sec, lime juice. Tom Collins: Gin, Lemon Juice, soda. Black Forest: Vodka, Cherry Brandy, Seven-Up, whipped cream, Khalua.
My Favorite Perfume For The Lady: Opium, Joy, Obsession.
Favorite Places: Vancouver, Honolulu, Hawaii, Disneyland and Disneyworld.
Favorite Musicians: Rolling Stones, Bobby Gentry, Rita Coolidge, Loretta Lynn, Joan Baez, Patsy Cline, Connie Francis, Crystal Gayle, Keith Richards, Kris Kristofferson, Peter Frampton, Bob Dylan, Rod Stewart, Neil Young, Van Morrison, Led Zeppelin, Eric Clapton.
Ideal Woman: Sensitive, to be treated with respect, as an equal. A Christian woman. To have truly a good woman you have to believe she is more precious than all the gems in the world. She has to be truthful and trustful and must be able to satisfy my needs. She has to be a very kind individual who is also sympathetic, tender, warm, gentle, tolerant, good tempered, confident, very charitable and a humanitarian and most of all have all the love of God.
Biggest Joy: The birth of my son, Stephen.
Favorite Pastime: Reminiscing on past experiences and events, listening to rock and roll and country music from the years 1955-1969 and reading and studying the bible.
Favorite Pets: My dog Penny, cats and horses.